This archived news story is available only for your personal, non-commercial use. Information in the story may be outdated or superseded by additional information. Reading or replaying the story in its archived form does not constitute a republication of the story.
SALT LAKE CITY — After almost three years of watching statewide employment decline significantly, a group of local executives is launching an initiative to reverse the jobless trend. Utah business leaders Thursday announced a 10-point plan to create 150,000 new jobs over the next five years.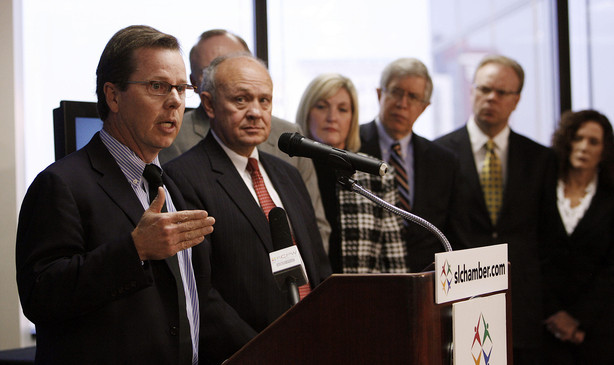 "The strength of our future is jobs," said Lane Beattie, president and CEO of the Salt Lake Chamber. "Business leaders' first and highest priority is restoring the Utah economy to full employment."
During a news conference at the Chamber's downtown offices, Beattie encouraged the governor and state lawmakers to work with the business community to make their goal a reality.
The plan focuses on education, transportation, energy, the cost of doing business, corporate recruitment, immigration, tax policy, air quality and rural development.
Lew Cramer, CEO of the World Trade Center-Utah, said exports of Utah products are a great example. "In the last five years, we have doubled exports in this state. And our goal to create jobs in the Utah Jobs Agenda is to double them for the next five years. Exports will create jobs," he said.
"We need to take steps to ensure that Utah's (current economic) recovery is not a jobless recovery," Beattie said. "As business leaders, we commit to demonstrate our confidence in the Utah economy by taking these very important … steps."
---
We need to take steps to ensure that Utah's (current economic) recovery is not a jobless recovery.
–- Lane Beattie, president and CEO of the Salt Lake Chamber
---
Beattie said local businesses pledged to invest in Utah by putting their profits to work building the state's economy. They plan to become more innovative than their peers nationally and abroad in addition to committing to begin hiring workers again.
"There are numerous positive signs that the economy has turned the corner, but the job creation has been lackluster," said Clark Ivory, president and CEO of Ivory Homes. "As a business community, we're demonstrating our confidence in Utah. It's time to move forward."
Recent data from Utah Department of Workforce Services indicate that about 102,000 Utahns are currently unemployed, with the state's jobless rate hovering around 7.5 percent -- the highest level in 26 years.
One area business leader said the relatively high number of people in the state without jobs could actually be seen as a real benefit to those employers who are looking to begin hiring more workers — particularly those looking to relocate to Utah.
"From a macro-economic point of view … we have a good, quality workforce," said Jeff Edwards, president and chief executive officer of the Economic Development Corp. of Utah. "They are educated (and) they're ready to go to work. It's a great resource to have."
EDCUtah is a public/private partnership that works to attract high-value companies to Utah and spur the development and expansion of local Utah businesses.
In April 2006, the state's jobless rate was at a low of 3.5 percent with steady job growth continuing into 2007. But that trend faltered dramatically in '08 culminating with the state losing more than 60,000 jobs the following year.
Last year saw continued job losses, but to a much lesser degree — as about 1,000 positions were eliminated.
Economists, however, have been a bit more optimistic for the new year, forecasting slow improvement on the employment front during 2011.
While predictions of job creation are good to hear, those who can really affect employment growth say it is up to them to make it happen.
"We, as businesses, have got to do it," Ivory said. "We are the solution … not just government. We do it through investment and innovation."
------
Story written byJasen Lee with contributions from Keith McCord.
×
Related Links