Estimated read time: 2-3 minutes
This archived news story is available only for your personal, non-commercial use. Information in the story may be outdated or superseded by additional information. Reading or replaying the story in its archived form does not constitute a republication of the story.
Alex Cabrero ReportingThe Mountain View Corridor is pretty much a done deal, right? Not if some groups have any say in the proposed highway west of I-15. At a meeting this afternoon, the groups say UDOT hasn't been too forthcoming with information.
The Mountain View corridor is going to run North-South from I-80 all the way down through West Valley, West and South Jordan, Herriman and into Lehi, to name a few cities impacted.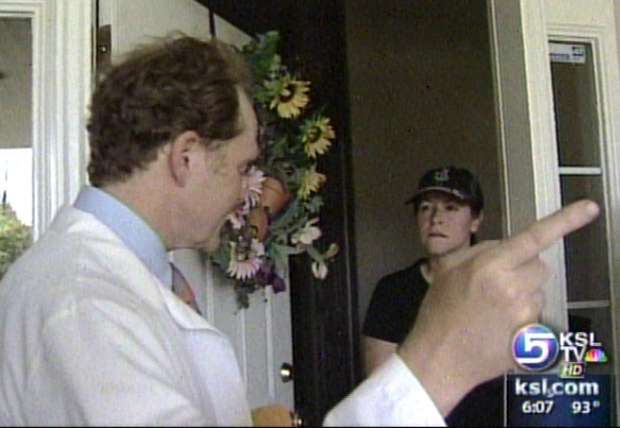 However, because of the highway, some people are more worried about what's going to be running through children's lungs.
Back in the day, doctors used to make house calls all the time. Dr. Brian Moench was doing that this afternoon, but what he was talking to people about couldn't be fixed with just an apple a day.
"Trying to raise awareness of the public's health consequences of this planned freeway that the Department of Transportation intends to build right over there," he said.
He's talking about the Mountain View Corridor, the large, north-south freeway being planned on the West side of I-15 in Salt Lake and Utah counties. Specifically, he's talking about air pollution from cars on the freeway and its effect on people living nearby.
"Significant increases in the rate of childhood leukemia, significant increases in the rates of asthma, and increased strokes and heart attacks in older people as well," Dr. Moench warned.
Dr. Meonch is with Utah Physicians for a Healthy Environment, and along with the Sierra Club, felt is was important to talk to people about UDOT's plan. "They haven't addressed at all the enhanced effects of living right next to a freeway," he said.
Teri Newell, with UDOT, says, "We absolutely addressed the air quality issues."
Teri Newell is UDOT's project manager for the Mountain View Corridor, and says they have looked at emissions and they'd be below the standards set up by the federal environmental protection agency. "We will either meet or exceed all those standards that are set," she said.
There's no denying there will be some emissions, though.
Marc Heileson, with the Sierra Club, says, "The question, I think, that needs to be asked is, how important is the health of our children?"
UDOT is in the middle of its environmental impact study for the project. In November, they'll have public meetings about it, where these types of questions, like why not build TRAX lines instead of a highway, are sure to come up.
×
Most recent Utah stories