Estimated read time: 4-5 minutes
This archived news story is available only for your personal, non-commercial use. Information in the story may be outdated or superseded by additional information. Reading or replaying the story in its archived form does not constitute a republication of the story.
SALT LAKE CITY -- The Utah Wildlife Board shot down a controversial proposal Tuesday that would have changed the regulations for trapping coyotes. The decision comes after critics roundly condemned it as unethical, inhumane and impractical.
Even hunters who detest coyotes had trouble swallowing the proposal because it would allow animals caught in a leg-hold trap to suffer as long as a week.
---
We feel that it's unethical, it's cruel, it's inhumane,
–Breana Reichert, UVU Animal Allies
---
Utah law currently requires trappers who put out such traps to go back within two days to see if an animal is caught in the trap; the proposal was to require visits to the trap only once a week.
In recent weeks, the wildlife board has been bombarded with nearly unanimous opposition.
"We feel that it's unethical, it's cruel, it's inhumane," said Breana Reichert. She spoke to the board on behalf of a campus group called UVU Animal Allies.
"I think it's a really bad change to make," said Tim Fehr of the Wildlife Protection Society. "It ought to go to 24 hours or leave it alone."
After a variety of similar comments, the board voted 4-2 to leave the two-day trapping rule in place.
The controversial one-week proposal came from hunters who are concerned about coyotes preying on deer herds. They want to make coyote trapping easier.
The board heard only one supporter of the change, hunter Byron Bateman of Sportsmen for Fish & Wildlife. That group backed off the original proposal after it became a political hot potato.
"Maybe a good compromise would be on this: Instead of seven days, that we look at 72 hours," Bateman told the board. "We need to do what we can to help our deer herds out."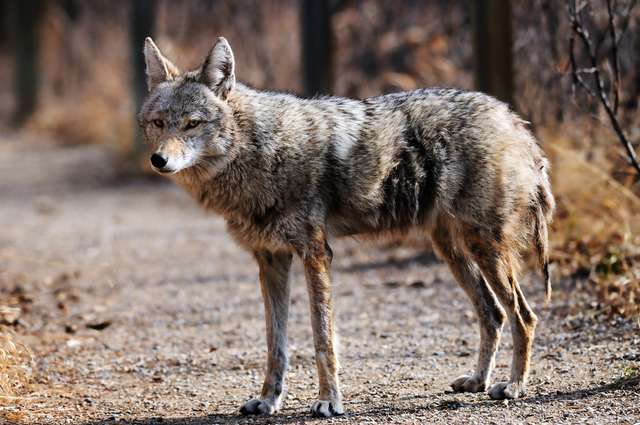 Environmental groups and pro-predator activists are predictably upset and denounced the proposal.
"That is just ridiculous. That's laziness on the part of people who don't want to go out and check their traps," said Hyrum resident Margaret Pettis.
Even many hunters, as well as the pro-hunting Utah Division of Wildlife Resources lined up against the proposal. Justin Dolling, the DWR's game mammals coordinator, said the agency opposes it because coyote traps often catch non-target species such as foxes and bobcats. He also called it "unethical treatment of animals."
"Nobody wants to see an animal suffer," Dolling told the board, "and I would include coyotes in that category as well."
Orin Midzinski hunts regularly and wants better control of coyotes, but said he thinks changing the trapping regulation is a bad idea.
"It's an ethical issue," Midzinski told the board. "It's also the non-target species and the possibility of that, so I'm just here to oppose it."
Kirk Robinson of the pro-predator Western Wildlife Conservancy expressed a similar concern.
"I don't think any of us want kit foxes, and bobcats, and eagles, and maybe even raccoons, and certainly badgers caught in these traps and suffering," Robinson said.
Wildlife rehabilitator Debbie Pappas said she sometimes nurses eagles and other animals back to health after they've been held in a trap for two days or so. But after a week, most would be beyond help, Pappas said.
"We're dealing with emaciation. They're starving to death, and who knows what else -- possible other predator attacks -- while they're sitting in the trap," she said.
---
We're losing our mule deer herds. We've got to do something about it, and we need to do it now.
–Tom Hatch, DWR board member
---
The debate over an obscure trapping regulation touches on a larger controversy: Sportsmen for Fish & Wildlife contends that coyotes are contributing to a drastic decline in deer herds. That view drew support from Tom Hatch, one of only two board members to vote in favor of the one-week coyote trapping rule.
"We're losing our mule deer herds," Hatch said. "We've got to do something about it, and we need to do it now."
But Anis Aoude, who coordinates the DWR's big game program, told the board there has not been a drastic decline recently. In the last 10 years, the deer population statewide is "stable to slightly declining," Aoude said.
Nevertheless, the DWR's Kevin Bunnel told the board it's likely that coyotes are partly responsible for holding fawn numbers down.
"It has been documented where increased coyote removal has increased mule deer survival and populations," Bunnel said. The DWR plans to put additional funds into a coyote control program under which government hunters shoot several thousand coyotes each year.
Bob Brister of the Utah Environmental Congress had an alternative proposal for reducing coyote predation.
"If you're serious about controlling coyotes," Brister told the board, "there's a way to do it and that is to get wolves back into Utah."
The board did not respond to that suggestion.
E-mail: jhollenhorst@ksl.com
×
Most recent Utah stories