Estimated read time: 2-3 minutes
This archived news story is available only for your personal, non-commercial use. Information in the story may be outdated or superseded by additional information. Reading or replaying the story in its archived form does not constitute a republication of the story.
HOOPER -- A Tuesday morning chase that began in Weber County ended with police fatally shooting a suspect in a remote part of Davis County near the Great Salt Lake. The man was later identified as 25-year-old Cody Allen White.
Weber County Sheriff's Lt. Mark Lowther said deputies received a call around 8 a.m. about a Ford F-350 pickup truck that was stolen while idling in a driveway.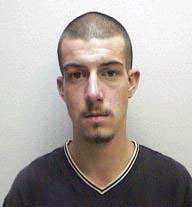 "The vehicle was then spotted here in the southwestern part of Weber County," Lowther said. "Deputies observed the vehicle but did not initiate a pursuit, followed at a distance."
They lost sight of the truck at the county line and put out an "attempt to locate" police bulletin in Davis County. Deputies there spotted the truck and followed it for about a mile west of Hooper.
White led officers to a field near 6500 West and 2575 North, not far from the Great Salt Lake. He crashed in a ditch, then jumped out of the truck.
"He just bailed on the vehicle after it crashed," said Davids County Sheriff's Sgt. Susan Poulsen.
After a short foot chase, deputies caught up to White.
"The suspect then displayed a gun and pointed at officers, and officers returned fire," Poulsen said. No officers were hurt in the shooting.
Deputies say two shots were fired, but at this point it is unclear who fired the first shot.
"It appears the suspect was aware that he was being followed" by officers, Poulsen said, adding that she believed at least three officers had guns drawn on the suspect at the time of the shooting.
Multiple agencies are now involved in the investigation because officers from three different agencies were in the standoff with the man: Weber County, Davis County and Clinton City.
White had several prior run-ins with law enforcement, including convictions for drug possession. He was released from the Salt Lake County Jail last month pending a theft case in 3rd District Court.
-----
Story written with contributions from Steve Fidel and Anne Forester.
---
×
Photos