Estimated read time: 2-3 minutes
This archived news story is available only for your personal, non-commercial use. Information in the story may be outdated or superseded by additional information. Reading or replaying the story in its archived form does not constitute a republication of the story.
SANDY -- As you make your New Year's resolutions, if they include going to the gym, losing weight and getting fit, don't make excuses.
A Utah woman is proving that even in a wheelchair, you can get to the gym.
Yoga poses involve the use of the upper and lower body, and while upper body movements aren't a problem for Amy Keller-Bill, the use of her legs is a little tricky.
"I have rods in both sides and a plate on the left because they were dislocated," Keller-Bill said.
---
Life is a gift, your body is a gift. You may as well use it.
–Amy Keller-Bill
---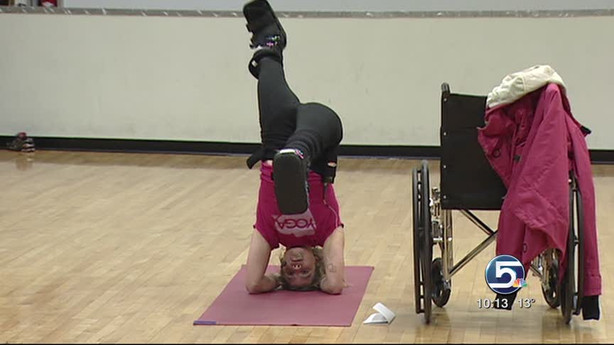 She broke her tibia and fibula in both legs after she was hit by a truck. It happened while she was at the BYU-Utah game on Thanksgiving weekend. She was leaving the tailgating lot where a lot of people were yelling and shoving as they were leaving the stadium. She said was forced off the sidewalk, right into the path of a truck.
"The truck was going like 5 miles an hour, it wasn't his fault," she said. "I ran into him, really. There's nothing he could have done."
The wheel of the truck caught her and pulled her under, breaking both her legs. She's been in a wheelchair ever since.
"The hardest thing is feeling useless," she said.
A few weeks ago, she said she couldn't take sitting around, doing nothing.
"I was going insane," Keller-Bill said. "The human body is not meant to be sedentary, it's not good for you."
So she started teaching again, careful not to put any weight on her legs.
"You think of little things that keep you from coming and working out, and they seem like minor things compared to two broken legs," said yoga student Tracy Campbell.
"There's no excuse," said Rick Ortenburger, another yoga student. "I had the flu yesterday, I wasn't feeling good, and I thought, 'Nah, I'm coming to Amy's class today.'"
Keller-Bill will be in a wheelchair for another couple of weeks. By February she hopes to start walking again, and her doctor anticipates a full recovery. She can't wait to get moving again and hopes her story might motivate people to get moving.
"Life is a gift, your body is a gift," she said. "You may as well use it."
Once she can walk again, her goal is to snowboard at least once before the season is over.
E-mail: abutterfield@ksl.com
×