Estimated read time: 2-3 minutes
This archived news story is available only for your personal, non-commercial use. Information in the story may be outdated or superseded by additional information. Reading or replaying the story in its archived form does not constitute a republication of the story.
Richard Piatt ReportingLovers of imported food know there are strict rules for meat brought in from other countries. That's why the owners of an Italian deli are excited about an artesian who is creating genuine salami right here in Utah. He says that, next to his family, salami is his passion in life.
He makes salami, treated with as much care as anything you can buy. It's cured under strictly controlled temperature and humidity and checked 24 hours a day, at times. It's Christiano Creminelli's life.
"It's my work and I love my work, so it's no problem for me," Creminelli said. "My friends joke me because they say 'You sleep with your salami.' But it's true, I sleep with my salami!"
Christiano is from the Piedmont Region of Italy, a place where salami-making is a noble profession. His grandfather created salami as the personal chef to an Italian General after World War II. Everything Christiano knows, from grinding the meat to tying the links, has been passed down for generations.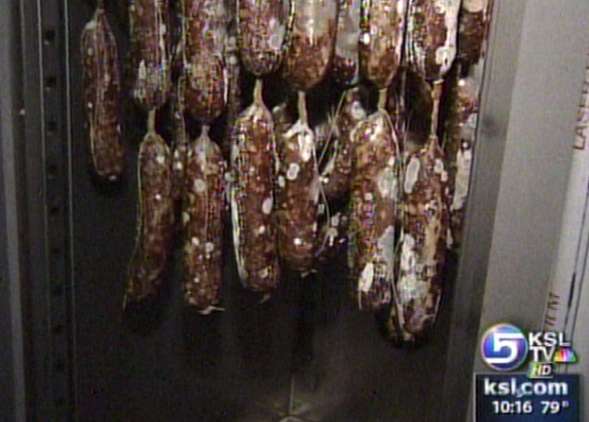 A lot of people consider Christiano an artesian salami maker. The way the salami is crafted, really created, you just can't find this anywhere else, not in Utah, anyway. Christiano is selling three different types of salami and three types of sausage at Caputo's Italian market, exclusively.
It's made with pork, raised naturally in Logan, carefully mixed with salt and spices. But curing is what creates a fresh, earthy flavor.
Matt Caputo, of Caputo's Italian Market, said, "That takes it from a fresh pork flavor, which isn't necessarily bad, into this incredible sweet flavor that's just, salami. And it's something that can't be replicated."
Creminelli says, "For Italians, salami is the most important part of the meal."
There are a lot of Utahns catching on to this taste of Italy: Caputo's sold 50 pounds on Wednesday of this week. The Creminelli sausage sells for $7.99 a pound; the salami is $25 a pound. Demand for both is increasing.
×
Most recent Utah stories