Estimated read time: 3-4 minutes
This archived news story is available only for your personal, non-commercial use. Information in the story may be outdated or superseded by additional information. Reading or replaying the story in its archived form does not constitute a republication of the story.
SALT LAKE CITY -- 2010 has been a difficult year for Utah law enforcement officers. Four were killed in the line of duty and a fifth is recovering in a hospital after being shot.
It was a year that reminded us all of how dangerous a police officer's job can be.
Only one week into 2010, Millard County deputy Josie Greathouse Fox was killed. She had pulled over a drug suspect when he shot her and took off.
Related
The entire state seemed to stop during her funeral.
"Deputy Josie was a great lady and last night, what a tremendous tribute by the outpouring of people at her viewing," said Sheriff Robert Dekker with the Millard County Sheriff's Office. "Thousands of people were there and so this is a tough day, but it is a day hopefully we can pay tribute to a great lady."
In April, Sevier County Sgt. Franco Aguilar died while helping a motorist on Interstate 70 who lost control in snowy, icy conditions. Another driver lost control and crashed into them, sending Aguilar over a bridge 250 feet down.
"Franco was always helping people out, and one of the things we want to do is make sure we take care of the family," said Det. Nathan Curtis with the Sevier County Sheriff's Office. "That's our biggest goal because times right now are tough."
Times were also tough in Uintah County this past June when Bureau of Indian Affairs officer Joshua Yazzie lost control of his patrol car. He was responding to a call when he rolled his vehicle several times.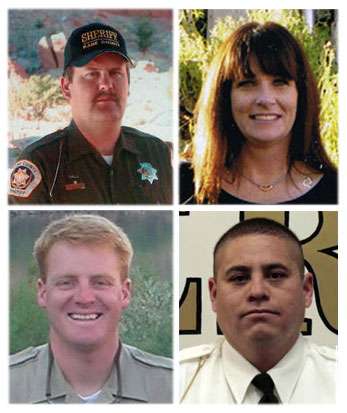 "It is a thankless job, and a job that's done in complete and total anonymity," Summit County Sheriff David Edmunds said. "The deputies and officers who work on the street every single day, most people don't know their names. They don't get paid a lot of money. They do it because of their convictions."
One of those who did it because they loved it was Kane County Deputy Brian Harris. He was shot and killed chasing a burglary suspect in August near the Arizona border.
His funeral also brought law enforcement officers from all across Utah and surrounding states.
Sheriff Lamont Smith with the Kane County Sheriff's Office said, "There wasn't anything that would make him take a step backwards. He is a leader. That's going to be hard to replace."
And just last month, Utah State Park Ranger Brody Young was [ just outside of Moab. Young was doing a routine check at the Poison Spider trailhead when, for some reason, the shooting happened. "I think we're a little bit in shock," said Deena Loyola with Utah State Parks. "We've never had anything like this happen. He's one of our own."
Young is still recovering at a Grand Junction, Colo., hospital.
As one sheriff told KSL, he can't wait for 2011 because it can't be as bad as 2010 was.
E-mail: acabrero@ksl.com](http://www.ksl.com/index.php?nid=148&sid=13759659?shot)
×
Related links
Related stories
Most recent Utah stories