Estimated read time: 4-5 minutes
This archived news story is available only for your personal, non-commercial use. Information in the story may be outdated or superseded by additional information. Reading or replaying the story in its archived form does not constitute a republication of the story.
SALT LAKE CITY -- With the San Francisco 49ers' playoff hopes on his shoulders, former Utah Ute Alex Smith was called on to bring his team back from a 14-22 deficit in the fourth quarter against division rival St. Louis Rams.
However, Smith could not resurrect an already horrible season, as the Niners fell to the Rams 17-25, ending all hopes of any sort of playoff run.
Smith, who is in the final year of his contract with the Niners, was made the back-up quarterback coming into the game against the Rams, with Troy Smith getting the start. Head Coach Mike Singletary, who has since been fired, named Troy the starter earlier in the week after a blowout loss to the San Diego Chargers.
It became clear that Troy was not the answer after a heated sideline argument between Singletary and Troy. Alex replaced Troy after a third-and-out possession to start the fourth.
---
It was frustrating, but it's part of the game. Part of being on this team is being able to deal with that and be ready to go if my number gets called. Those aren't my decision; I just have to do my job.
–Alex Smith
---
Alex Smith started the game four-of-four, including a 33-yard pass to Josh Morgan, moving the offense down field. Smith, however, couldn't finish as the Niners settled with a field goal, closing the gap 17-22.
Facing a third and nine on the next drive, Smith was sacked by Chris Long for a loss of five yards, fumbling the ball only to be recovered by Fred Robbins of the Rams. With time running down, Smith was given an opportunity to put points on the board but was sacked by Robbins, ending all hopes of post-season play.
"I really thought we got ourselves in some really bad positions," Smith said. "I was the back-up coming into this game, that was my role, but it's on all of us."
Smith ended the game going 10-of-15 for 120 yards, with a passer rating of 91 in the nearly ten minutes of play.
Asked about being benched for the Rams game, Smith said: "It was frustrating, but it's part of the game. Part of being on this team is being able to deal with that and be ready to go if my number gets called. Those aren't my decision; I just have to do my job."
The Niners will end their season at home against the Arizona Cardinals, with little indication of which Smith will get the start.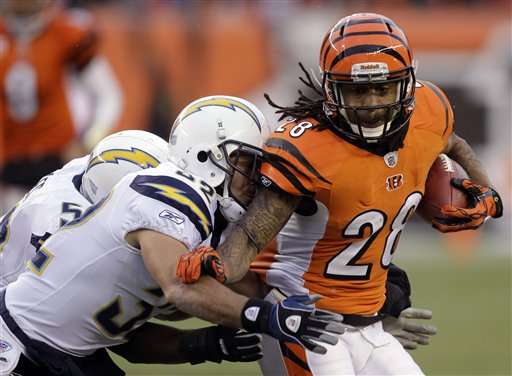 Another team looking for a playoff berth was the surging San Diego Chargers, led by a monstrous game by former Utah Ute Eric Weddle.
Weddle led the Chargers with 16 total tackles and a pass deflection to energize the defense, but it wasn't enough to stop the Bengals' offensive attack.
The Chargers needed a win against the Cincinnati Bengals, with a Kansas City Chiefs loss to the Tennessee Titans to go into the postseason. Weddle certainly did his part to ensure a victory, but it wasn't enough as the Bengals rolled over the Chargers, winning 34-20.
"I was sitting there in the fourth quarter in shock," Weddle said. "Words can't really explain how we feel right now. Our season is done. It's probably the worst feeling you can have."
Other notable locals in play:
Chris Cooley (Utah State), TE, Washington Redskins: Cooley had five catches for 48 yards as the Redskins beat the Jacksonville Jaguars
Steve Smith (Utah), WR, Carolina Panthers: Smith had three catches for 17 yards as the Pittsburgh Steelers dominated the Panthers
Paul Soliai (Utah), DE, Miami Dolphins: Soliai had four total tackles, with one for a loss as Miami fell to the Detroit Lions
Koa Misi (Utah), LB, Miami Dolphins: Misi had three total tackles, with one for a loss against the Lions
Sean Smith (Utah), CB, Miami Dolphins: Smith had two total tackles against the Lions
Bryan Kehl (BYU), LB, St. Louis Rams: Kehl had three total tackles against the San Francisco 49ers
Haloti Ngata (Highland HS), DT, Baltimore Ravens: Ngata had two total tackles as the Ravens beat the Cleveland Browns
Dennis Pitta (BYU), TE, Baltimore Ravens: Pitta got his first NFL tackle in a win over the Browns
Brett Keisel (BYU), DE, Pittsburgh Steelers: Keisel worked the Panthers, sacking quarterback Jimmy Clausen, getting a pass deflection and six total tackles
Stevenson Sylvester (Utah), LB, Pittsburgh Steelers: Sylvester had two total tackles against the Panthers
Nick Miller (SUU), WR, Oakland Raiders: Miller returned a punt for 12 yards in a loss to the Indianapolis Colts
Injury Report:
Former BYU Cougar Austin Collie was placed on the injured reserve Wednesday after suffering a concussion last week against Jacksonville when linebacker Daryl Smith hit Collie with his forearm. "He certainly is a guy that's going to be missed," Colts coach Jim Caldwell said. "From a medical standpoint, we are concerned more so about his health than anything else. This is the right thing for him at this particular time."
×
Most recent Sports stories