Estimated read time: 3-4 minutes
This archived news story is available only for your personal, non-commercial use. Information in the story may be outdated or superseded by additional information. Reading or replaying the story in its archived form does not constitute a republication of the story.
SALT LAKE CITY -- A St. George man who routinely uses his helicopter to provide humanitarian aid and assist law enforcement allegedly scammed millions of dollars from consumers by charging their credit cards for services they did not agree to.
The Federal Trade Commission filed a complaint Wednesday against Jeremy Johnson and nine others in U.S. District Court for Nevada.
The complaint alleges Johnson's company, iWorks, lured people into "trial" memberships for bogus government grants and moneymaking schemes and then repeatedly charged them monthly fees for programs they didn't sign up for.
"No consumer should be sucker-punched into making payments for products they don't know about or don't want," FTC Chairman Jon Leibowitz said in a press release.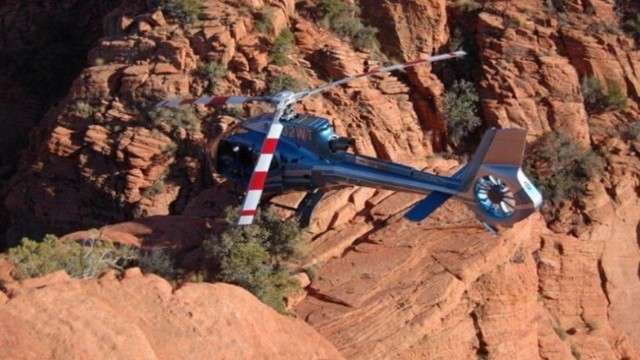 Johnson, a multimillionaire, flew his helicopter to Haiti shortly after the earthquake there in January to deliver food to starving people. He also transported injured Haitians and sick orphans to hospitals. He made several trips back to the country in the months following the earthquake.
He has taken to the skies numerous times to help search and rescue teams look for lost hikers. Just last month, he helped Grand County authorities search for the man police believe shot a Utah Parks and Recreation officer. This week, he flew engineers to inspect a dam in danger of breaking due to heavy rains in Washington County.
Johnson said the FTC complaint wasn't unexpected.
"We've been dealing with them for a year, but we couldn't come to an agreement, so I guess they sued us yesterday," he said.
He referred questions to his attorney, Mark Schamel, who specializes in securities cases for the law firm Womble Carlyle in Washington, D.C.
"There's nothing bogus about what they're doing," Schamel said.
Johnson's business uses what is known as negative option marketing, a common practice used by scores of companies in which consumers must specifically opt out of a service to keep from being billed for it. The FTC in recent years has attempted to crack down abuses of the tactic, although Congress has not passed a law against it.
"iWorks and its employees ran a legitimate business for legitimate services and for legitimate products that were purchased," Schamel said. "We're hopeful that will carry the day."
The FTC, he said, has no facts to support its allegations. "They need evidence, and the evidence will speak for itself."
The complaint against Johnson and his associates alleges they created 51 shell companies as part of their business operation. Their websites tout the availability of government grants to pay personal expenses or pitch various moneymaking programs. They claim the offers are free or risk-free, and customers will be charged only a small shipping and handling fee.
But when consumers provided their billing information, iWorks charged them hefty one-time fees of up to $129.95 and monthly recurring fees of up to $59.95, according to the complaint. iWorks also charged them additional monthly fees for one or more unrelated programs that consumers did not agree to.
According to the FTC, hundreds of thousands of customers sought reversals of charges to their credit cards or debits to their banks accounts. The high number of chargebacks landed the companies in VISA's and MasterCard's chargeback monitoring programs, preventing them from getting access to the credit and debit card billing systems using their own names.
Consequently, the FTC claims, Johnson and his associates tricked banks into giving them continued access to those billing systems by creating shell companies with figurehead officers, and by providing the banks with phony "clean" versions of their websites.
This is not the first time Johnson's business practices have drawn federal scrutiny.
In 2001, the Securities and Exchange Commission filed a fraud complaint against him in Salt Lake City involving an Internet company he owned called RumorSearch, which offered subscribers purportedly hot stock tips. The case was settled with Johnson paying more than $425,000 in penalties without admitting wrongdoing.
E-mail: romboy@desnews.com
×
Related stories
Most recent Utah stories