Estimated read time: 2-3 minutes
This archived news story is available only for your personal, non-commercial use. Information in the story may be outdated or superseded by additional information. Reading or replaying the story in its archived form does not constitute a republication of the story.
Amanda Butterfield ReportingA popular burger joint in American Fork is getting sued by an even more popular hamburger chain.
We first told you about Chadders restaurant in May, and how it's similar to In-N-Out Burger. We've learned In-N-Out Burger wants Chadders Restaurant shut down.
They first caught wind of Chadders after customers e-mailed, asking if it was connected to In-N-Out Burger. In the lawsuit, the lawyers even use the story we aired on the similarities to support their claim that Chadders is ripping off the burger chain.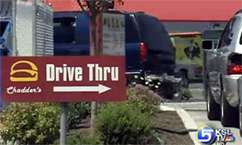 On May 29, Chadders customer Linda Wandvik said, "Actually, I'm from California and it reminds me of In-N-Out Burger. I always loved In-N-Out Burger, so as soon as they opened up, we had to come and try it."
Her statement made its way into a 30-page trademark infringement lawsuit In-N-Out Burger has filed against Chadders Restaurant, stating that everything from its building exterior to its menu board and menu is a rip-off of In-N-Out Burger.
Because of the lawsuit, officials would only send a statement that reads in part: "We will vigorously defend our trademarks and trade-dress against any and all copycats and imitators."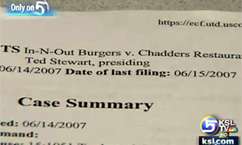 We got no response from Chadders. But we did go through the drive-through to see just how similar the two restaurants are.
The lawsuit is very detailed, alleging Chadders even uses the "secret menu," known only to In-N-Out customers. So that's what we ordered. First we asked for the Protein Burger, a registered trademark item of In-N-Out.
The Chadders employee asked us, "You want a hamburger wrapped in lettuce?"
We said, "Yeah, is that not called a Protein Burger anymore?"
"Uh, no," the employee said. "It's a Beef and Leaf."
Then we asked for Animal Fries.
"I've never heard of that," the employee said.
We said, "Oh, I'll just get regular fries then, if you don't have Animal Fries."
"Well, some people like to put cheese sauce and onions on it. Is that what you want?" the employee asked.
The food was packaged just like it would be at an In-N-Out Burger. We know that from the lawsuit, too. Now a federal judge will decide if Chadders is too similar.
The real In-N-Out Burger could soon be coming to Utah. We've learned they're planning to open the first Utah location near St. George by early 2008.
×
Related links
Most recent Utah stories