Estimated read time: 2-3 minutes
This archived news story is available only for your personal, non-commercial use. Information in the story may be outdated or superseded by additional information. Reading or replaying the story in its archived form does not constitute a republication of the story.
John Daley ReportingIn the GOP race for president, former Massachusetts governor and Utah Olympic boss Mitt Romney is increasingly assuming the status of front-runner.
Mitt Romney is out-pacing better known candidates in polls in the primary states of Iowa and New Hampshire, and in fund-raising.
National polls have him trailing Republicans with better name recognition like Rudy Giuliani and John McCain, and likely candidate Fred Thompson. But he leads in fund raising and in polls in Iowa and New Hampshire.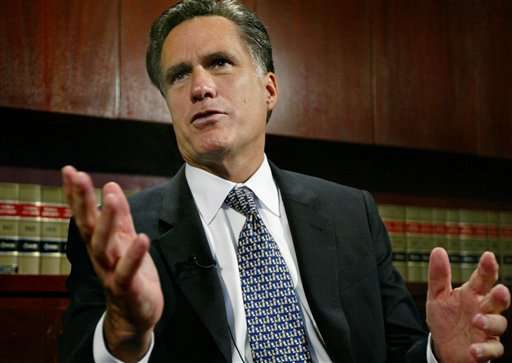 One of his sons, 31-year-old Josh Romney, lives in Salt Lake City. And he sees his dad's success tied to his abilities on the stump. Josh says, "I think it's due in large part to the fact that people there are paying attention to the race. They see what's going on. He's been there a lot, so they've been able to see him, hear his message. And his message is resonating. They like what they see and they like what they hear."
Romney is perceived as having done well in debates. He's raised his visibility by spending $4 million in early TV advertising. And though he's been criticized as a "flip-flopper" on key issues like abortion and gay marriage, his positions seem to be resonating with conservatives. Former Romney Campaign counsel Kirk Jowers says, "McCain's campaign is in trouble. Giuliani's is starting to drop and I just am not a believer in Thompson having a real shot. And so I think anyone, whether a Romney supporter or not, would have to say that Mitt is now the front-runner."
The campaign has an aggressive Internet presence with a Web site which includes video clips of the candidate in debates and news stories, a behind-the-scenes look called "Mitt TV," fund raising links, even blogs by his five sons.
Josh says his dad's success is tied to his abilities on the stump. He says, "I really just think it's a factor of seeing him, getting to know him. And once that happens, they like him."
Josh says, looking down the road, the biggest challenge will be Hillary Clinton 2008.
But that's 18 months from now, a long time in the world of presidential politics. A major test for all the candidates, after Iowa and New Hampshire, will come in the subsequent primaries in South Carolina and Florida, and then the multi-state races where a gold mine of 831 delegates will be chosen. It's being called Mega Tuesday. That's the day New York and California go to the polls.
×
Most recent Utah stories