Estimated read time: 2-3 minutes
This archived news story is available only for your personal, non-commercial use. Information in the story may be outdated or superseded by additional information. Reading or replaying the story in its archived form does not constitute a republication of the story.
John Hollenhorst Reporting The woman was not raped, but police are calling it a sexual assault. The victim says the half-naked burglar rubbed his body against hers until she woke up and scared him away.
The incident Sunday morning is eerily similar to a case last month in South Salt Lake. Just a couple of days ago police asked the public for help in solving that case. Sunday morning's case appears unrelated, police say, with a different, but equally terrifying, suspect.
Sexual assault victim Karla Melton says, "I woke up to somebody rubbing their body against mine." For Melton, it happened fast, like a very bad dream. "I reacted and flipped around and pushed him off my bed. Got up. Grabbed my phone. Dialed 911 as he was running out the door," she says.
Tracy Tingey with the South Salt Lake Police says, "Investigation revealed the suspect apparently made entry through a front-room window by sliding it open and crawling through. He then apparently disrobed at least partially from the waist down, climbed into bed with her and began to fondle her."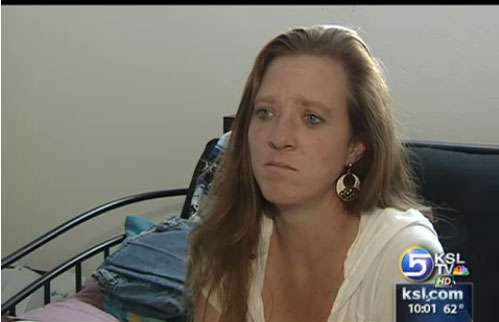 "If I wouldn't have woken up, he would have raped me," Melton says. "And I know he would have. And that's the thought that scared me."
She helped investigators create a drawing of the man. She said the suspect smelled of alcohol and appeared drunk as he grabbed his clothes and scrambled from the room.
"All he said is 'I'm sorry.' He barely spoke English. But he said, 'I'm sorry.'"
KSL normally does not identify victims of sex crimes. But Melton was eager to speak openly to the public. "I just want to tell everybody: protect yourselves, protect your families, lock your doors, lock your windows," she says.
South Salt Lake police agree most people aren't careful enough with windows and doors. Tingey says, "They go into their house and they go to sleep. And they forget there are people out prowling around at night. And you have to protect yourself."
Melton hopes the suspect is found because she thinks he'll do it again.
These are the suspect drawings in the two cases, last month and early Sunday morning. Police say the suspects aren't at all similar. And Sunday morning's case also differed in methodology from the case in May.
The suspect Sunday morning got away with most of his clothes, but police say but he did leave behind some useful evidence.
×
Related links
Most recent Utah stories