Estimated read time: 2-3 minutes
This archived news story is available only for your personal, non-commercial use. Information in the story may be outdated or superseded by additional information. Reading or replaying the story in its archived form does not constitute a republication of the story.
Whit Johnson ReportingA wildfire in Utah County is getting some help from Mother Nature as it continues to burn out of control. But hot, dry winds are overpowering their resources, and people have been evacuated from the area.
The fire is in Utah County, north of S.R. 73, near Cedar Fort. The big concern right now is the dangerous combination of very dry vegetation, high temperatures and winds.
It's a wall of fire with flames 100 feet high and billowing smoke that could be scene for miles. Jim Springer with the Department of Natural Resources says, "It's extremely hazardous situation there because of the strong erratic winds, so it puts firefighters in a lot of danger.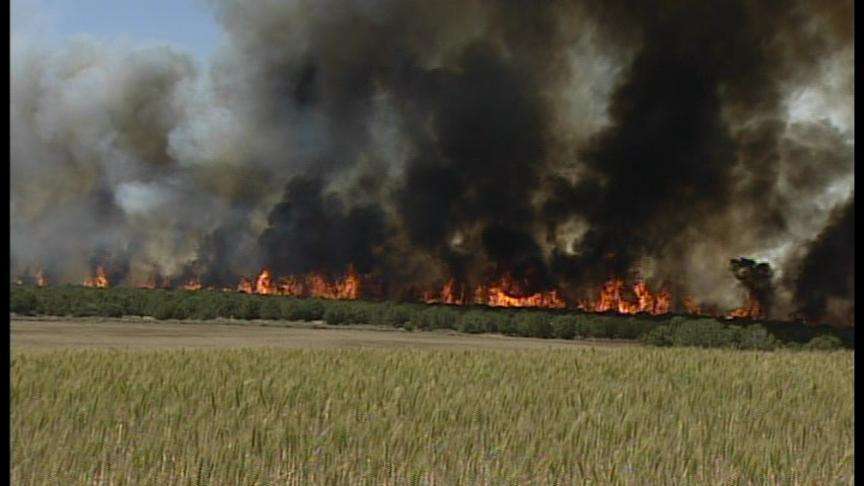 Crews are calling it the Four Mile Fire. It started just before noon today. The flames spread quickly, moving in three different directions in Utah County. Lt. Darren Gilbert of the Utah County Sheriff's Office says, "You always worry that somebody is up there or is caught up there. The high winds and the rapid pace that this fire is moving, we have concerns about structures and civilians."
The area is a mix of state and private land. Cabins, campers, and mobile homes were evacuated up West Canyon. "It doesn't take very much but a spark to ignite a fire that can grow and cost millions of dollars," Gilbert said.
The Utah County Sheriff's Office says the fire was set accidentally by children playing with homemade model rockets. Gilbert said, "Right now, it's under investigation. We have made contact with them. Initially, they were part of the reporting party that actually contacted the Sheriff's office and informed us of the fire."
Hundreds of acres have been burned. Despite the efforts of eight agencies, airplanes and helicopters, crews say the fire is far from being out.
Fire officials say the fire danger is very high right now. They say you should stay away from fireworks and use extra caution when it comes to camp fires.
×
Most recent Utah stories