Estimated read time: 3-4 minutes
This archived news story is available only for your personal, non-commercial use. Information in the story may be outdated or superseded by additional information. Reading or replaying the story in its archived form does not constitute a republication of the story.
Tomorrow is expected to be the hottest day of the year. For some, though, it's going to feel even hotter. That's because the power is going to be cut off for thousands of people in the South Jordan area. That means no air conditioning or even electricity for fans.
Rocky Mountain Power says it needs to do maintenance work on this substation. Power has to be shut down and is expected to be out between 7:00 a.m. and 5:00 p.m.
Celia Stahl is the type of woman who doesn't like getting mad, but she was downright furious when she found out what Rocky Mountain Power is doing to her neighborhood Saturday. She says, "They didn't give notice until I called and complained."
The power is being shut off, so crews can work on this electric substation.
Margaret Oler with Rocky Mountain Power says, "This is work that must be done on some equipment that allows the electricity to be moved out from the substation and out to customers."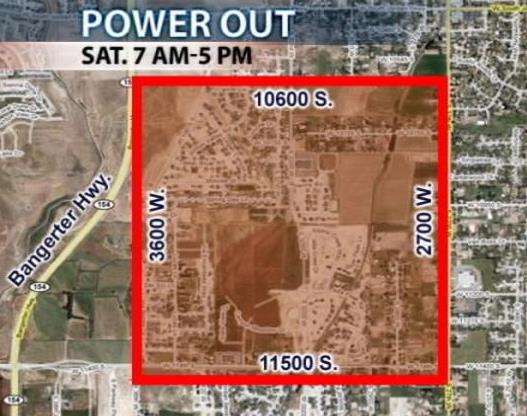 It affects thousands of customers in South Jordan between 10600 South and 11500 South, and 2700 West and 3600 West.

A lot of people want to know the work isn't being done on a weekday, or even at night. South Jordan resident Dean Payne says, "Doesn't make sense to me, and it's the day before Father's Day. It's also going to be the hottest day of the year so far."

Jo Johnson is already stocked up on ice, filling a cooler to preserve food. She's got six kids to keep happy, and she doesn't understand the timing of the outage. "It really is shocking that they could not either have planed ahead better or, like we said, do it at night."

[Get the Flash Player](http://www.macromedia.com/go/getflashplayer) to see this player.

Lindsi Roberts also is irked. "I think I'm gonna go to the pool or to the mall, but I don't plan on being home. Plus we have a wedding tomorrow, and I can't do my hair now for the wedding." There have been several power failures in this area the past two months. Rocky Mountain Power says that's why the work is necessary now. "Demand for electricity, as I mentioned, has been growing, and that does mean we have to provide new resources for that energy as well as capability," says Oler.

But even with this big planned outage, neighbors say if it does fix all the problems they've been having, then one more day without power is worth it.

We spoke to several residents in the area and asked them how they planned to stay cool tomorrow. A lot of the men said they might go to the movies. The women said they'll just go shopping.

×
Related links
Most recent Utah stories