Estimated read time: 3-4 minutes

This archived news story is available only for your personal, non-commercial use. Information in the story may be outdated or superseded by additional information. Reading or replaying the story in its archived form does not constitute a republication of the story.

I'll take a little recipe out of Private Benjamin Buford 'Bubba' Blue's cookbook.

You can eat crow in a number of ways. You can deep fry it, barbecue it, boil it, broil it, bake it, sautee it, cook it on a crow kabob, crow creole...

I have a couple kindred spirits as friends.

Ryan Taylor is a special kind of Jazz fan. The kind that can recite all draft picks since 1983 (all rounds) without breaking open a laptop or a sweat. The kind of friend that sat on the end of the 10th grade sophomore bench with me and discussed the latest Jazz news instead of paying attention to the game (sorry Coach).

He and I, and 20,000 of our closest friends, went to the airport at 3:00 a.m. to welcome home the Jazz at Million Air after Stockton hit "The Shot". He loves the Jazz so much that he sometimes can't watch the games because he gets too nervous (of which we give him an endless supply of grief).

So when the Jazz signed Elson, I sent out my first response to several of my boys. "Jazz to sign Francisco Elson... as if that is even worthy of my sending this email."

Ryan asked how I thought Elson would contribute. My response was something like this, "I can't believe I'm wasting my thumb energy typing this message. It's Francisco Elson. He's a league minimum player that won't see the light of day."

I believed that with my whole soul.

What I didn't realize is that Kevin O'Connor has quietly been listening to Jazz fans. For years (amid oblique strains, hamstrings and calf injuries) the Jazz have been lacking toughness. O'Connor's answer was multi-layered.

He didn't resign Boozer and shrewdly pulled off one of the great steals in NBA history, Jefferson for picks and Koufos.

Toughness factor increase: Exponential.

He let Wesley Matthews go to Portland for a max mid-level deal and replaced him with Raja Bell for half the price.

Toughness factor increase: Wash

Earl Watson signed as a backup point guard, stopping the endless supply of Brevin Knights and Jason Harts. This move has had an unexpected double bonus that has allowed (starting with the Portland game 10 games into the season) Ronnie Price to play along side Earl Watson at the 2 guard position. Anytime the Tasmanian Devil can check into the game, at any position, your toughness factor goes through the roof.

Toughness factor increase: Exponential

And finally we come to the Cisco Kid. Frankie say relax is not in his vocabulary. Elson is exactly the low post defender for which the Jazz have been looking. A great perimeter defender with a mean streak. Elson has been so good defensively, that he has finished a number of games. There is no higher praise from Jerry Sloan than to leave you in the game during crunch time.

Video Courtesy of [KSL.com](http://www.ksl.com)

Rod Zundel did a nice story with the Flying Dutchman (Elson is from the Netherlands) as they went to a local Dutch market to sample some Dutch cuisine. Rod did not enjoy the pickled herring, nor did he enjoy the Dubbelzout (black licorice).

I sampled the Dubbelzout. It was not good. It starts off bitter. Then the bitterness creeps to the back of your mandible causing the first of many baby-eats-brussel-sprouts faces. You wait for a hint of sweetness to creep through since it is technically candy, but are unrewarded. It's like they substituted salt for sugar. Elson gave Raja Bell a taste while sitting on the plane. Raja, spit it out at Elson.

In the story, Elson gave this stare to the camera that sent chills down my spine.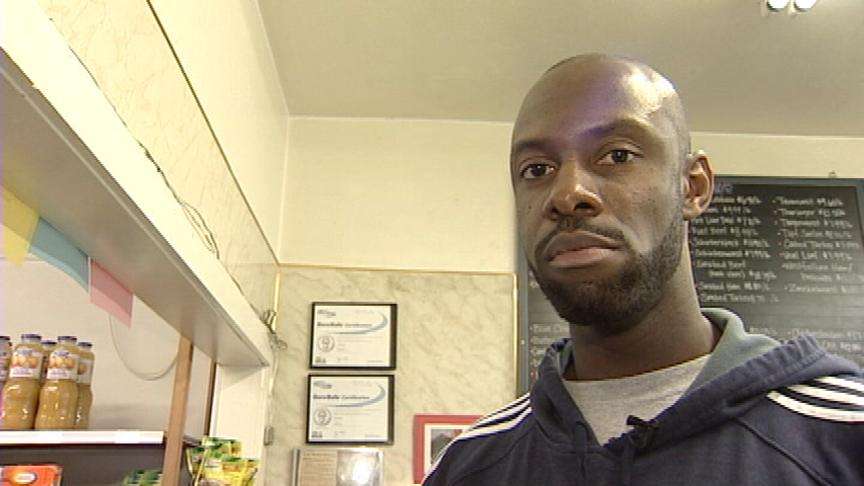 Literally, chills. I actually tried to apologize for Raja by proxy.
"He's lucky, he's on my team." said Elson.
I believe that.
Raja and and the rest of the Jazz are lucky that Francisco Elson is on their team.
×
Most recent Sports stories