Estimated read time: 2-3 minutes
This archived news story is available only for your personal, non-commercial use. Information in the story may be outdated or superseded by additional information. Reading or replaying the story in its archived form does not constitute a republication of the story.
Amanda Butterfield ReportingUtah County authorities have arrested a student from Ethiopia for buying guns illegally, and what he said he would do with those guns gives police great concern.
Roommates describe the young man as "unstable" and obsessed with guns and violence. Both Orem and Provo police, at different times, have investigated the student.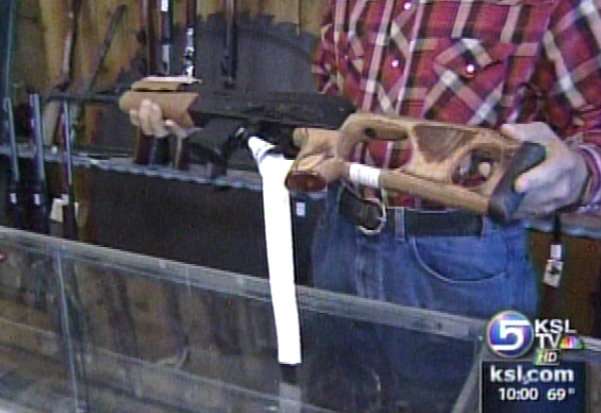 Kidus Yohannes is an international student at UVSC. We have the paperwork on why Kidus Yohannes was arrested: he's accused of buying two guns illegally, and that could be just the beginning.
Kidus Yohannes bought two AK-47s from Van Wagenen guns in Orem this past October. The manager remembers him well. "He's very interested in AK-47 and various military looking guns," Norman VanWagenen said.
He's bought guns there on at least three occasions and has always had the proper information. VanWagenen says, "He had ID, Utah drivers license and alien registration number."
Orem police discovered the alien registration number Yohannes gave VanWagenen is false. On Friday he was arrested and his room searched. Police found an imported Russian rifle, several AK-47 magazines and a large quantity of ammunition, weapon parts and drawings of weapons.
Neighbors had no idea. One neighbor, Lanette Ellsworth, said, "That scares me because I have little kids and didn't know that was going on.
But his roommates had noticed his strange behavior. His roommate Javier described him as, "Too quiet, which made us really uneasy."
They say he was always watching violent videos on the Internet. "Thngs about how to assassinate someone or how to kill someone," Javier said.
The roommates had even heard Yohannes say he will kill a police officer and indications that he would be involved in a mass shooting. They reported all this to police on their own and say they are relieved he's not living with them anymore.
Orem Police believe, if released, Yohannes would be a threat to the community because he still has access to the two AK-47's he bought from VanWagenen's. Police never found them when they searched his room and Yohannes won't tell them where they are.
During the search of Yohannes' rental house, police also found one of his roommate's Visa cards that was reported stolen.
The affidavit states he has been charged three previous times for carrying a concealed weapon, and he has had an assault rifle impounded by Provo Police. They're currently determining if it has been modified illegally.
Yohannes' bail is set at $250,000.
×
Most recent Utah stories