Estimated read time: 2-3 minutes
This archived news story is available only for your personal, non-commercial use. Information in the story may be outdated or superseded by additional information. Reading or replaying the story in its archived form does not constitute a republication of the story.
Sarah Dallof Reporting Less than 24 hours after a gas main rupture forced hundreds to evacuate the Gateway, officials now say they know who's to blame. And they say it's going to cost them.
Everyone is back at work today and it's quite a different scene than yesterday afternoon. As office workers and shoppers were cleared out of the area due to fears that the parking garage could explode at any moment. The roar of the natural gas escaping the line yesterday was so loud it could be heard from blocks away.
Marjorie Rowley, who was evacuated yesterday, says, "I'm wondering about going into the high rise, if that's a safe place to be right now."
Dennis McKone with the Salt Lake City Fire Department said yesterday, "It's going into pockets into the buildings and in parking. It's extremely dangerous at this point."
Once Questar Gas shut down the line it only took about 40 minutes to clear out the parking garage. But who was responsible? And who will pay?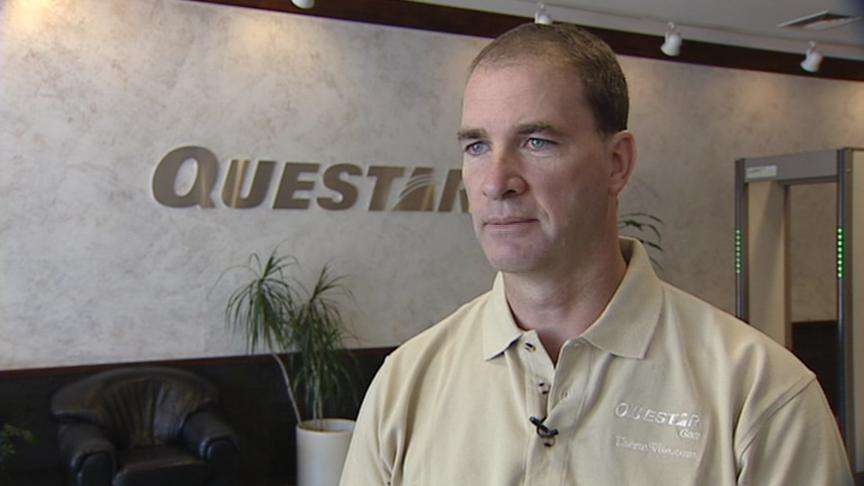 Darren Shepherd with Questar Gas says, "The line was blue staked. It was clearly marked." Questar Gas says the construction crew should have switched to hand tools as soon as they got near the line. They plan to fine the contractor, Commuter Rail Constructors, as much as $14,000.
Shepherd says, "You've got to factor in the time, the equipment, the amount of gas that was pretty much gone into the wind."
Chad Saley with UTA also confirms the line was clearly marked. Commuter Rail Constructors referred our questions to UTA, who hired them to complete the new TRAX project. UTA agrees the line was marked, but defended the construction company saying they're good to work with and rarely have problems. Saley says, "They shouldn't have hit it. It was purely an accident."
UTA says they plan to hold additional safety meetings and say that the crew that hit the line will be disciplined, although they aren't sure how yet.
Questar Gas sees a lot of ruptured natural gas lines in the summer and spring as people build and work outside. Just today a construction crew severed a line in Centerville causing a few homes to be evacuated.
Questar gas is also reminding everyone to call before they dig; that number is 811.
×
Related links
Most recent Utah stories