Estimated read time: 2-3 minutes
This archived news story is available only for your personal, non-commercial use. Information in the story may be outdated or superseded by additional information. Reading or replaying the story in its archived form does not constitute a republication of the story.
Sam Penrod Reporting Tuesday morning, 450 Utah National Guard soldiers will leave for a one-year deployment to Iraq. The first plane is scheduled to take off around 11 a.m. Soldiers of the 145th Field Artillery are based at Logan, Camp Williams, Spanish Fork and Manti.
It was a patriotic scene in Manti Monday night, as the community showed support for the soldiers who have been called to active duty in Iraq. We discovered many of these soldiers really can say they are serving with a band of brothers.
As guardsmen of the 145th Field Artillery prepare to deploy, you'll notice a lot of similarities in both names and faces. Riley and Rawlin Anderson are brothers who will serve side-by-side. Jeff Brenchley's older brother is in the leadership of the 145th. In all, there are nine sets of brothers in this guard unit of 90 guardsmen.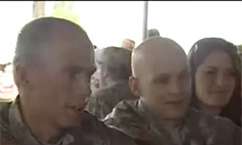 Kip Larsen said, "A lot of the reason I joined the Guard was because of my brother."
His brother, Kal Larsen, said, "It's good to have support with your brother. You can look out for one another."
Bryan Moulton told us, "Brad and I are twins and have gone through everything together. So being away from our families and loved ones, at least I have a loved one close by."
But it is not just brothers. There are fathers and sons who are deploying as well, like Neil Mellor and his son, Jason.
Neil said, "Our family has a long tradition of military service. Now we have a chance to both go out and wear the uniform together."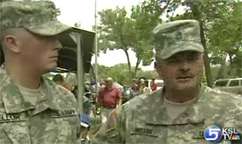 Jason added, "Serving with my dad is good because you have a family member there for support. A lot of people who go over to Iraq probably only know a couple of the guys they are with."
And there are brothers whose cousins will be serving as citizen soldiers in this deployment.
According to Paul Dyreng, "It's always good to do difficult things with a family member right by you."
Brad Dyreng said, "My little brother is one of my best friends. My cousins here, I've known them my whole life. Also the whole unit, a lot of them I grew up with, went to high school with."
Travis Dyreng said, "It will be a good thing. Me and my brother are really close, and I'm excited to serve with him."
"Somehow we manage to take care of each other," said Jake Dyreng. "Sure helps me go out there, when it could be a lot harder."
While there are a lot of family connections in this unit, all of these soldiers consider themselves one big family. They say the brotherhood they share will allow them to depend on each other and make this deployment much easier.
They leave Tuesday for one year.
×
Related links
Most recent Utah stories