Estimated read time: 3-4 minutes
This archived news story is available only for your personal, non-commercial use. Information in the story may be outdated or superseded by additional information. Reading or replaying the story in its archived form does not constitute a republication of the story.
Sam Penrod ReportingOne of the biggest deployments of Utah National Guard troops is under way. The 145th Field Artillery is going to Iraq for a one year mission and troops are scattered throughout the state.
About 100 of those 450 soldiers are based in Manti, and today hundreds of people lined the street to give them a hero's send-off.
The troops of the 145th of the Manti unit paraded down Main Street today, in a sea of red, white and blue, and yellow ribbons. The guardsmen wearing their uniforms waved to the crowd and thanked them for their support.
The Mayor of Manti Natasha Madsen said, "We're just really proud of these young men and their families and what they are doing for our country."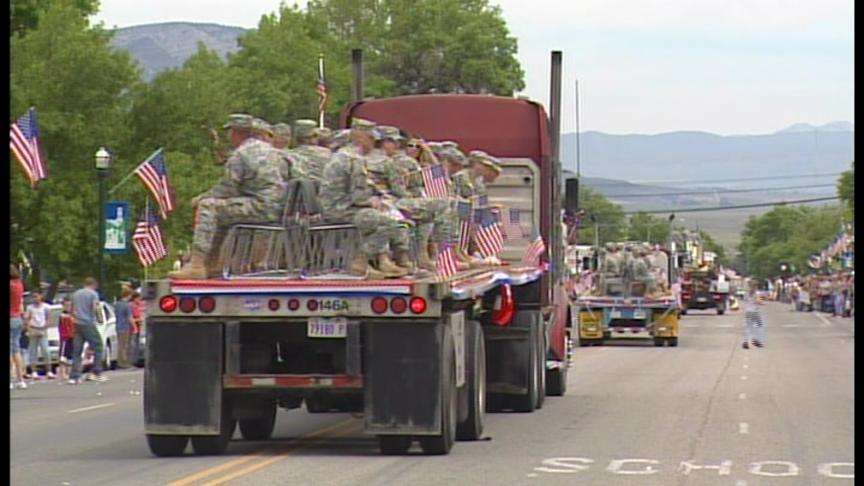 For a small community of less than 3000 people, this deployment is having a big impact on the Sanpete Valley. These citizen soldiers will leave their jobs and their families, many of them have young children as well.
Jason Mellor of the145th Field Artillery says, "It is a hardship. I got a wife and a kid on the way, but there are a lot of people who are in worse circumstances. Hopefully, we can go over there and make it a better life for those who can't really change their lives, don't have the same opportunities we have."
"We're going with a great group of guys. We have a lot of support from the community and we're thankful for that. And we're just grateful for the opportunity we have to go and to give back what we enjoy," said Paul Dyreng of the 145h Field Artillery.
Paul's dad Allen Dyreng said, "We have two sons that are going and they are both prepared and both looking forward to this. And it is a personal sacrifice, but they are willing to put it on hold and put their lives on hold and one of them is newly married and has a wife at home. And it is difficult for them, but they have a good attitude about it. They are going to make the best of it."
Ralph Brenchley also has two sons being deployed. He said, "We love and support all of the troops regardless of where they are from. We pray for them and even though it's tough, we're proud of them."
For veterans who have served in other wars, seeing the guardsmen deploy is emotional. World War II veteran Don Tibbs said, "In all honesty, to me, it's touching. It makes me tearful."
The guardsmen feel that community support and say that is what makes it easier for them to go, knowing people will watch out for their families. "Mellor says, "The thing about these small town units like this, it's one big family going out. And maybe you can see that from the support you've seen in the community today, a lot of people have to go out with this support from home. We're like the hometown team that goes out and plays the away game and that's what it's like in these small town National Guard units."
This is the first overseas deployment for these troops, not long after 9/11 they served a security mission in Tooele County.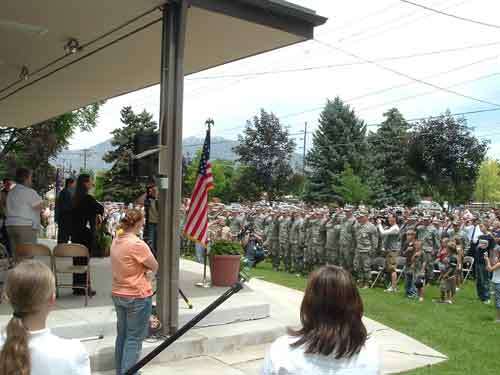 All of the soldiers in the 145th will deploy tomorrow for three months of training in Texas and in September will head to Iraq.
Tonight at Ten, we'll share with you the family connections of brothers, and even fathers and sons in this unit, who are deploying together.
×
Related links
Most recent Utah stories