Estimated read time: 2-3 minutes
This archived news story is available only for your personal, non-commercial use. Information in the story may be outdated or superseded by additional information. Reading or replaying the story in its archived form does not constitute a republication of the story.
Gene Kennedy Reporting Fire investigators think they have a serial arsonist on their hands. The fire at 8400 West 2700 South was quickly contained. The latest incident was a small field fire around two this morning. Authorities can't link these incidents except for a couple of similarities.
The First Samoan Congregational Church which was set on fire last week is hundreds of feet from the Magna field. Church members and investigators are concerned about the number of incidents and the fact that they're all around the same time in a nearby area.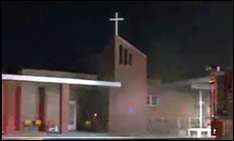 Two weeks ago, a garbage can near the church was set on fire. Then about a week ago a fire at the church itself caused serious damage. Then there was a field fire and now this latest grass fire.
The pastor is very suspicious. Rev. Sai Tafaoialii of the First Samoan Congregational Church says, "I think it's the work of arson because it's the same thing and especially here...That's why I think it's good to look beyond this one and sort out who's responsible for doing this before there's a major one."
The church is continuing its services at another church in West Valley City. This Saturday at 9 a.m. the church will gather members of the community to help rebuild the portion of the building that was damaged.
Meantime, the pastor says they haven't received any threats, but he can't help but feel there's something more to all of this.
Investigators have two theories about these fires. The first is that there's a serial arsonist with some sort of problem with the church. The second is that a nearby business owner is burning off his weeds in the area.
The Sheriff's department is going to be stepping up its patrols to try to get some answers. The fire department is also asking anyone with information to call them. They could use some strong leads.
×
Related links
Most recent Utah stories