Estimated read time: 2-3 minutes
This archived news story is available only for your personal, non-commercial use. Information in the story may be outdated or superseded by additional information. Reading or replaying the story in its archived form does not constitute a republication of the story.
SALT LAKE CITY -- A Mormon missionary from Grantsville is recovering after being stabbed in a robbery attempt Sunday in Huacho, Peru.
"Elder Benjamin Cole was stabbed by an assailant while serving in the Peru Lima West Mission. The stabbing appears to be entirely random. Elder Cole was taken to a local hospital to repair the wound and is expected to fully recover," said a statement by Scott Trotter, a spokesman for The Church of Jesus Christ of Latter-day Saints.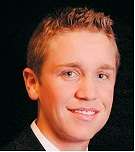 Ed Cole, the missionary's father, told the Deseret News and KSL that two men approached his son and his son's missionary companion about 3:30 in the afternoon Sunday and demanded money. One of the men was waving a knife around and started yelling "What are you doing? What are you doing?" when his son started reaching for his wallet. The man then stabbed his son on his right side just below his rib cage, piercing Benjamin Cole's liver.
Ed Cole and his wife, Cindy, were able to talk to their son on the phone Monday morning. "He said he was pretty shocked. He felt like he'd been slugged in the stomach and was shocked to see the blood," Ed Cole said. "The companion took his shirt off and used it to stop the bleeding. They put him on a three-wheel motorcycle and rushed him to the hospital."
"He's healing remarkably fast," his father said. "He's happy and confident." The missionary is scheduled to be released from the hospital Thursday and will convalesce in the mission home.
Huacho is situated 92 miles north of Lima. "This is a very safe area. One of the local authorities said they haven't had anything like this in 25 years," Ed Cole said.
Huacho area news website ecoshuacho.com said a search by national police followed a report of the stabbing, and that five men age 17 to 22 were arrested connection with the assault and a separate incident nearby where a 15-year-old boy was stabbed in the arm and leg.
Benjamin Cole's mission began eight months ago. He is the youngest of five and the fourth of the Coles' children to serve as a full-time missionary.
E-mail: sfidel@ksl.com
×