Estimated read time: 2-3 minutes
This archived news story is available only for your personal, non-commercial use. Information in the story may be outdated or superseded by additional information. Reading or replaying the story in its archived form does not constitute a republication of the story.
SALT LAKE CITY -- Many Latino leaders are applauding the Utah Compact. The document contains five principles meant to guide Utah's immigration discussion. It was signed by business, community and religious leaders on Thursday.
Leaders of Utah's Latino community hope a statement of support for the compact from The Church of Jesus Christ of Latter-day Saints will have a particular impact on state lawmakers.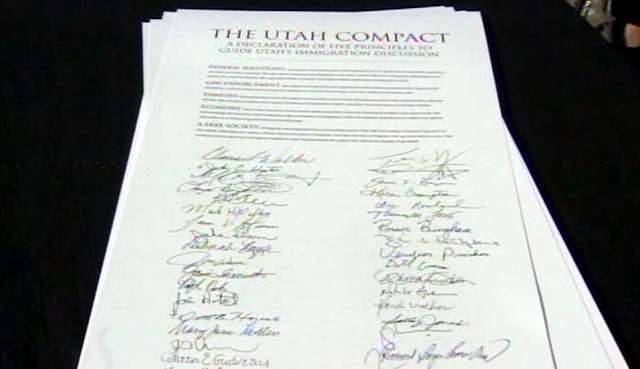 "It's their strongest statement yet," said Proyecto Latino De Utah's Tony Yapias (CLICK HERE to read the Church's statement). He now hopes lawmakers will listen, since he says more than 80 percent of them are members of the LDS faith.
Yapias wants Utah lawmakers to drop any immigration bill. If they don't, he would hope LDS Church President Thomas S. Monson would speak to the topic of immigration. "Not to address the issue of being illegal is right or wrong," Yapias says, "but to address the issue that immigration is a moral issue."
Utah Coalition of La Raza President Robert Archuleta wishes the LDS Church would have issued a stronger statement. Still, he says he's pleased the Church backs the compact, which supports federal immigration reform.
Others are calling on Utah's federal delegation to push for reform. Peggy Wilson of the Coalition of Utah Progressives said, "This is a federal issue. They are there to represent us."
But Alex Segura of the Utah Minuteman Project calls the compact "more nonsense" because Washington likely won't act. "Washington D.C. is not going to solve the problem. It's more likely that we'll see Humpty Dumpty get back together again," he said.
He claims the aim is to pressure Rep. Steve Sandstrom, R-Orem, to water down his immigration proposal, which is an enforcement-only bill. Sandstrom says he won't.
Senate President Mike Waddops believes the compact and LDS Church statement probably will play a factor and may actually make new laws easier to pass. He said, "We know the Church has taken a position. We don't have to dance around what they might think because we know what they think."
Gov. Gary Herbert's office issued a statement saying he's "heartened" that community leaders "have come together to lend their voices to this effort." It did not spell out what impact he thinks the compact should have on any legislation.
------
Story written with contributions from Cleon Wall and John Daley.
×
Related stories
Most recent Utah stories