Estimated read time: 2-3 minutes
This archived news story is available only for your personal, non-commercial use. Information in the story may be outdated or superseded by additional information. Reading or replaying the story in its archived form does not constitute a republication of the story.
Jed Boal ReportingThe Utah Museum of Natural History unveils an exhibit this weekend that might make you think about our planet and its species in a very different way.
From the Frog Prince to Kermit the Frog, our culture finds frogs easy to humanize. That seems about right because frogs tell us about the health of our planet.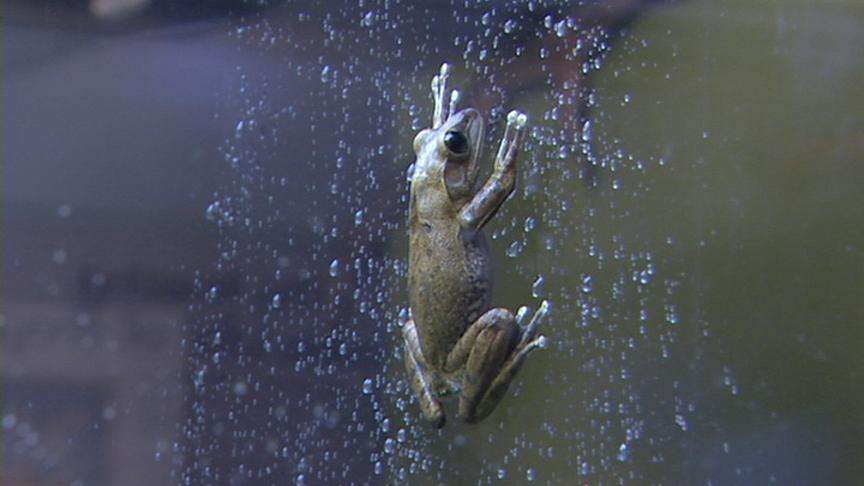 Graduate biology student Ben Chan says, "They're trying to tell us that something in the ecosystem is not right, and we need to listen to that before it's too late."
You can listen when Toadally Frogs opens tomorrow at the Utah Museum of Natural History on the campus of the University of Utah.
Frogs and toads live in land and water environments. Because they breathe through their skin, they are vulnerable to toxins and viruses.
Among 6,000 species of frogs, one-third are in decline, and 200 species have vanished in the last 20 years. Exhibit designer Tim Lee says, "Frogs are indicator species. That means whatever damage we're doing to the environment by polluting the air or water, frogs feel it immediately."
This is the most extensive live exhibit they've ever had here at the museum. And unless you've actually studied frogs, it will probably be the widest variety you'll ever see. Gallery Programs Coordinator Rachel Zurer said, "You'll have a chance, a couple of times a day, to see some live frogs handled by our volunteers."
The Western Toad is at home in Utah but threatened. Habitat restoration could help frogs hang in there, but their survival has more to do with the way we live. "Just being more ecologically conscious about day-to-day decisions, and maybe we can reverse some of the damage that's been done so far," Chan said.
The exhibit aims to entertain and educate, but it might also inspire us to consider the message of the frogs.
The Family Frog Festival will get the exhibit hopping tomorrow, starting at 11:00 a.m.
For more information, click on the link to the right.
×
Related links
Most recent Utah stories