Estimated read time: 6-7 minutes
This archived news story is available only for your personal, non-commercial use. Information in the story may be outdated or superseded by additional information. Reading or replaying the story in its archived form does not constitute a republication of the story.
Class 4A
It's fair to say that the vast majority of people who follow high school football in the state of Utah believed Timpview was going to win their 5th consecutive state title. They seemed to be as much of a favorite as Bingham is in 5A. The Thunderbirds were a unanimous No. 1 choice in the KSL Coaches' Poll from week one through week ten. Yet here we are with the 4A semifinals set to kick off Friday and Timpview is not one of the teams that will be playing on the turf for the first time since 2005.
The Timpview dynasty was a remarkable run. The Thunderbirds had won 4 consecutive state titles. Since 1972 when Utah went to four classifications, only Skyline, who won 5 consecutive titles from 1995-1999, has accomplished such a feat. They had won 20 straight games. The owned a 47 game winning streak against 4A competition. They also owned a 17 game playoff-winning streak that is now history. It's been quite a remarkable run for the Timpview football program. They deserve a lot of credit for all their accomplishments the past five years.
With Timpview eliminated, we now have a wide open final four. Any of the four remaining teams can win it all. Here is a preview of Friday's semifinal match ups.
Highland Rams (8-4) vs. Springville Red Devils (10-1), Friday 11 a.m. @ Rice-Eccles Stadium
How can the Springville Red Devils top what they accomplished last Friday? A year ago, Timpview crushed them in the 4A State Championship game. Ever since they have been waiting for a shot at redemption. They got it last week in the quarterfinals and made the most of it. They shocked the entire state by knocking off the Thunderbirds. I was at the Jordan vs. Cottonwood game when the final score was announced and there was an audible gasp from the crowd. No one gave Springville much of a chance in that game but not only did they win but they dominated.
It probably felt like a championship game for the Red Devils but they still have work to do. They face a challenging opponent in Friday's 4A semifinal. The Highland Rams are playing their best football right now and it looks like they have put their inconsistency behind them. They boast wins over Lone Peak, Bountiful, and East. Last week they made the 300-mile drive to St. George last week where they won a thrilling game against Pine View, 48-44. Quarterback Anthony Smithson has provided the offense with a spark it was lacking before he became the starter in week 6. He is a dual threat in the Rams option attack and in just 8 games has had success throwing the football. Smithson thrown for more than 1,300 yards and completed 60 percent of his passes for 15 touchdowns and just 4 interceptions. Many of those touchdown passes have been caught by Utah commit Nate Fakahafua. He may be the best all-around athlete in the state. Fakahafua has 1,082 receiving yards and 14 touchdowns. He not only stars on offense but on defense as well. He has 14.5 sacks as a defensive end, which is good for 2nd in the state. He is joined on the defensive line by Desmond Collins, an Idaho commit, who has 10.5 sacks.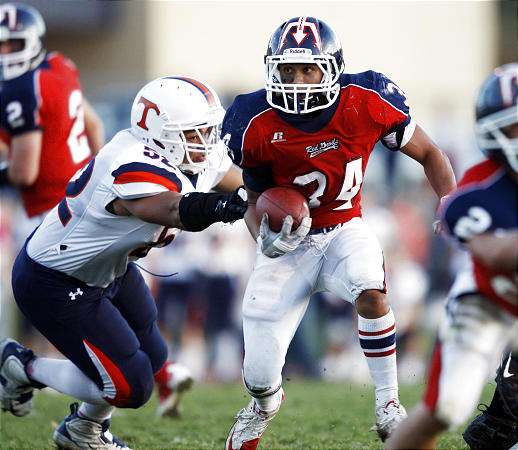 They will have their hands full slowing down the explosive Springville offense. Junior quarterback Steve Bate picked apart the Timpview secondary for 229 yards and three touchdowns. For the season he has passed for 2,054 yards in 11 games. He has 31 touchdown passes and just 6 interceptions, only Mountain Crest's Alex Kuresa has more touchdown passes this season in the state of Utah. He has a number of weapons at his disposal. Running Back Marcus Case has rushed for 1,309 yards and 19 touchdowns. When he throws the ball he has deep threat Jaylon Miyasaki who averages 23 yards per catch and has 14 touchdowns. He also has 6' 8" basketball star Matt Sumsion at tight end that has 7 touchdowns.
The offense overshadows the Red Devils underrated defense. They give up just 14 points a game; only Bountiful's defense has better numbers in 4A. Caleb McCray has 107 tackles while Brody Swanson leads the team with 14 sacks.
This game is very evenly matched and if the Highland team that beat Bountiful, East and Lone Peak shows up they will be tough to beat. But Springville proved last week just how good they are and they are playing with a purpose. They have dedicated their season to friend and teammate Brandon Curtis who was killed in an automobile accident just prior to the start of the season. That emotional lift they get from playing from Brandon may be the difference in what should be a close game that any football fan in Utah won't want to miss.
Prediction: Springville 35 Highland 34
---
Bountiful Braves (9-3) vs. Mountain Crest Mustangs (9-2), Friday 2 p.m.
This is a match up of the best offense in 4A (Mountain Crest) against the best defense (Bountiful). Something has to give on Friday. Trying to figure out which one it will be is the challenge.
Quarterback Alex Kuresa leads the Mustangs. Now in his 4th year as a starter he has claimed several state passing records. The numbers are incredible. During his high school career he has 95 touchdown passes and just 9 interceptions, in FOUR YEARS! According to state historian George Felt he has more than 12,000 yards of total offense and just passed the 10,000 yard mark in passing yardage. No Quarterback in Utah history has more total yardage, passing yardage, completions and touchdowns. Before he takes his talents to Provo next fall there is one accomplishment that eludes him, a state championship.
Bountiful's Defense
| | Opp. Scoring Avg | vs. Bountiful |
| --- | --- | --- |
| Lone Peak | 29.58 | 10 |
| Spanish Fork | 33.36 | 7 |
| Logan | 31.45 | 6 |
| Tooele | 16.9 | 7 |
| Woods Cross | 33.33 | 17 |
| Viewmont | 19.5 | 27 |
| East | 33.17 | 0 |
| Highland | 29 | 31 |
| Stansbury | 15.4 | 7 |
| Olympus | 25.1 | 14 |
| Orem | 15.33 | 0 |
| Spanish Fork | 33.36 | 12 |
To earn a shot at winning that state championship next Friday, he must figure out how to score points against the Bountiful defense this Friday. The Braves have been stonewalling opponents all season. Only twice this season did they give up more than 14 points a game. In fact in all but two games they held their opponents well below their average in points scored. Only Viewmont and Highland were able to buck the trend. One reason they are so good is their ability to force turnovers. Kyle Pawlowski and Teau Satuala have combined for 10 interceptions.
The underrated element in this game may be the Braves offense. While their defense gets a lot of attention they have quietly averaging 42 points per game in their last four games. Running backs David Coffman and Teau Satuala have combined for almost 1,600 yards and 12 touchdowns.
The match up to watch in this game will be the Bountiful defense versus Alex Kureas. I mentioned Kuresa's accomplishments throwing the football but he is almost as good with his legs. He is almost impossible to bring down in the backfield for a sack and he has rushed for 17 touchdowns. The Braves must contain him and force him into mistakes. If they don't Kuresa and the Mustangs should get their shot at a state title.
Prediction: Mountain Crest 28 Bountiful 24
---
×
Related links
Related stories