Estimated read time: 2-3 minutes
This archived news story is available only for your personal, non-commercial use. Information in the story may be outdated or superseded by additional information. Reading or replaying the story in its archived form does not constitute a republication of the story.
Paul Nelson, KSL NewsradioGarages all over the state are being cleared, as garage sale season gets into full swing. But, how can you keep your sale from being a bust?
The forecast for tomorrow is good. Weather watchers say it should be sunny with a high in the low 80s. Basically, it's perfect yard sale weather.
Judie Minie shows me some of the things she plans to unload during a yard sale in the Avenues tomorrow. Her area of yard sale expertise is furniture. "I'm going to sell this '50s table. I've advertised it on Craig's List, and I haven't gotten a big response," Minie says.
Minie says she's no rookie in the yard sale game, and she knows how to move merchandise. One of her tricks is to join her friends and create one big sale between several families. She says, "When I see multi-family, that appeals to me because you may not like the taste one person has, but you'll like something else another person might have."
The first rule of making a good yard sale: Advertise. Those posters you have ready to go all over the neighborhood are good, but they may not be enough.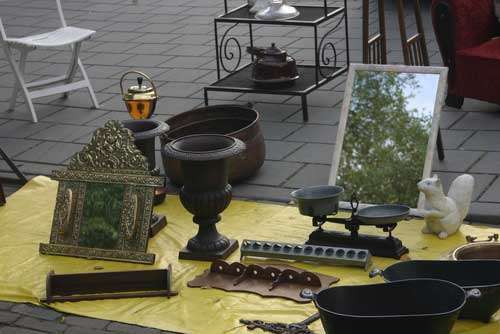 Utah State University Family and Consumer Science Educator Teresa Hunsaker says if you have a lot of one kind of item, putting them in some sort of package deal helps. For example, you could sell 10 books for two dollars. She says, "It's also enticing to see people walking out of your garage sale with boxes of things."
She also advises, "Make sure that you get it in the local newspaper, [and] that you put it in laundromats. Even grocery stores have the big bulletin boards in a lot of them." Of course you can also advertise here in the KSL Classifieds for free.
Some other tips may seem like common sense. Have everything well displayed and grouped together. Hang clothes instead of putting them on the ground. Have everything specifically priced to leave less room for haggling. This may be hard to hear, but some of that stuff you plan to sell is just junk. "To them it may be valuable, but to the garage sale-goer, it's not," Hunsaker says.
Hunsaker says you should be ready for your sale an hour earlier than you plan to start, because there are some fanatical garage sale goers that scour the city for a good deal.
×
Related links
Most recent Utah stories