Estimated read time: 1-2 minutes
This archived news story is available only for your personal, non-commercial use. Information in the story may be outdated or superseded by additional information. Reading or replaying the story in its archived form does not constitute a republication of the story.
Gene Kennedy ReportingA propane tank fire at the Salt Lake International Airport is out this morning.
That fire started in a training facility. It's a place where crews essentially set airplane shells on fire and practice putting them out. But somehow a 12,000 gallon propane tank went up in flames.
One of the runways had to be closed due to the fire, but flights were not affected.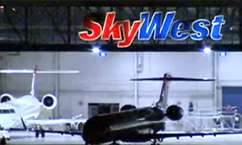 The propane tank caught fire around 9:30 last night. As of 11:30 p.m., six flights were scheduled for arrival, one was scheduled for departure. No flights were canceled and none of them were delayed. Also, the terminals were not evacuated. Neither were homes near the airport.
But there was a problem. Crews spraying the tank ran out of water. That's when evacuations took place, and some planes were pulled out of their hangars.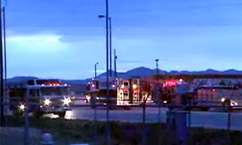 Dennis McKone, assistant chief of the Salt Lake City Fire Department, said, "The tower was the last to go. But U.P.S., the maintenance shop and Delta reserve -- the reservation center -- were evacuated early on. These people were moved into safe areas in case there was an explosion there would be no injury or loss of life to either civilians or firefighters."
Propane specialists were brought in, then a Hazmat team shut off the gas feed. By 1:30 this morning the fire was out and the situation was under control.
We still don't know how this happened. Investigators hope to know what caused the fire sometime this morning.
×
Related links
Most recent Utah stories