Estimated read time: 2-3 minutes
This archived news story is available only for your personal, non-commercial use. Information in the story may be outdated or superseded by additional information. Reading or replaying the story in its archived form does not constitute a republication of the story.
UTAH COUNTY -- It was a rough start to Election Day for many Utah County voters looking to vote before heading to work.
When the polls opened at 7 a.m., all of the 110 polling locations in Utah County were running into the same problem.
---
It appears to be a programming glitch. The poll managers instituted plan B, which was to go ahead and utilize one of the (voting) machines as an encoder.
–Bryan Thompson, Utah County clerk/auditor
---
"It was the cards," said downtown Provo assistant poll manager Annie Erickson. "As soon as someone would put a card in (the voting machine), it wouldn't bring up the election; it would reject the card."
The Utah County Clerk, who is responsible for the voting machines, says poll workers followed their training and allowed for some paper ballots while the backup plan was implemented.
"We had a problem with the security card that is run through the encoders. It appears to be a programming glitch," said Utah County Clerk/Auditor Bryan Thompson. "The poll managers instituted plan B, which was to go ahead and utilize one of the (voting) machines as an encoder."
Despite the long lines of up to an hour-long wait, most voters took the delay to cast their ballot in stride.
"It took me about 45 minutes, but it's a privilege to be able to vote even though it took me a while," said voter Margaret Sykes.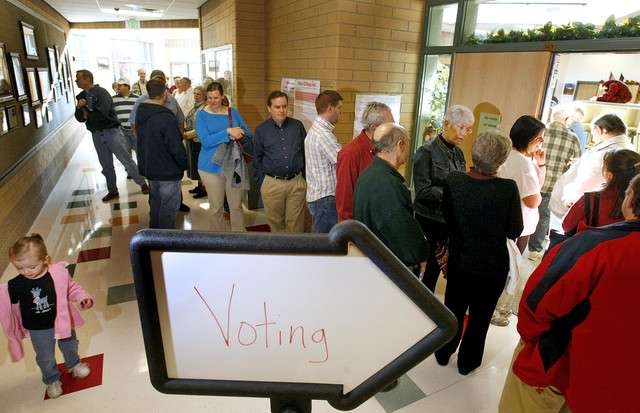 Voter Steevun Lemon said, "There's people in other countries that are still waiting for it. Forty-five minutes isn't a long time to cast a a vote, at least I don't think so."
Thompson says the problem was taken care of quickly at some polling locations, but took longer to correct at others.
The problem has caused a residual delay, meaning long lines at all of the polling locations we visited Tuesday morning.
The county IT department that created the program for the cards is looking to find what caused the glitch.
At some polling locations voters were told to wait or asked to come back when the problem was fixed. Paper ballots were also given as an option in some locations.
"We just asked them to be patient," said Erickson. "They were very patient."
That wasn't the case everywhere and we found many people who wanted to vote, who became discouraged by the long lines and hour long estimates of waiting. They said they had to get to work or pick up children from school as some of the reasons they had to walk away.
Thompson is hopeful anyone that left because they couldn't wait for the problem to be fixed will return before the polls close to cast their vote.
------
Compiled with contributions from Randall Jeppesen and Sam Penrod
×
Related links