Estimated read time: 1-2 minutes
This archived news story is available only for your personal, non-commercial use. Information in the story may be outdated or superseded by additional information. Reading or replaying the story in its archived form does not constitute a republication of the story.
Tonya Papanikolas Reporting We knew the strong winds were coming, so we figured it was just a matter of time until we started hearing about problems they caused. Sure enough, that's what happened!
In Tooele County, winds up to 55 miles an hour blew over a semi truck westbound on I-80. The truck was carrying 8,000 pounds of baby food. Two people were in the truck, but luckily, no one was hurt. The freeway was shut down for a short time Tuesday to get the truck turned upright again.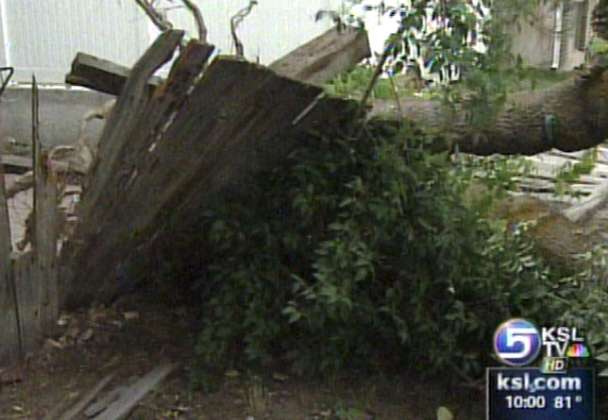 The winds also pushed a fast-moving fire in Tooele County toward the freeway. The fire came within 10 miles of I-80 and forced the Aragonite exit to be shut down. But then the winds shifted and started pushing the fire east, into wilderness area where heavier fuels will make it hard to fight. That fire has already burned 24,000 acres.
In Sandy a man came home from a dentist appointment to find one of his trees had fallen through his fence onto the driveway.
Jeff Monson said, "I couldn't believe it. First I thought it was the dead tree that fell over. Then I see this other tree down here. I thought, oh, this is unbelievable."
The tree also damaged some of the bricks in Jeff Monson''s patio. Monson told us he usually parks his car right in the spot where the tree fell, so he's just glad he wasn't home. He says from now on, he'll park his car on the street.
×
Most recent Utah stories