Estimated read time: 2-3 minutes
This archived news story is available only for your personal, non-commercial use. Information in the story may be outdated or superseded by additional information. Reading or replaying the story in its archived form does not constitute a republication of the story.
Amanda Butterfield ReportingToday's wind added to the problems of an apartment resident who's trying to keep trash out of the creek behind his home. He emailed us at KSL about what he calls an ongoing problem and that the health department won't do anything about it.
The Murray man lives along Cottonwood Creek and is tired of garbage from a neighboring apartment dumpster blowing into the water and along the banks. The health department has records of his complaints but today told us they've closed his case, because there's not a problem.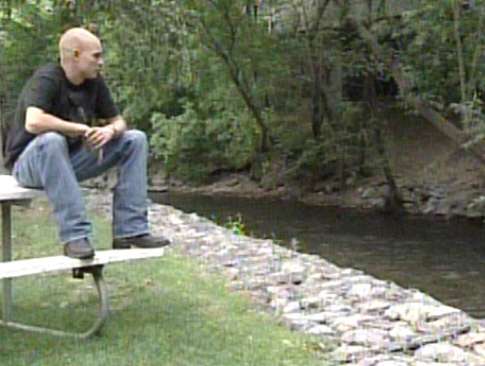 Nate Pehrson loves living by Cottonwood Creek, but he hates living by the trash. "It's so nice to live by the river, next to the river, but look what becomes of it."
The problem, he says, is the building on the other side. He's seen people throw rubbish over the balcony, like some blueish-gray paint he pointed out to us.
"I sat there and watched a guy shake a tarp out right over the river," Pehrson said. But he says it's the dumpster that makes the biggest mess. "There's like a little wind tunnel that blows it right in the river."
Tired of picking it up himself, Pehrson called the Salt Lake Valley Health Department for help back in March.
Diane Keay, with Salt Lake Valley Health Department, said, "We didn't see any garbage in the creek, so I don't know what he has seen or what he considers a problem."
On two different occasions they say they have investigated Pehrson's complaints and found nothing.
"If we found a lot of garbage, we would ask whoever the property owner is there to clear that out. However, we didn't see anything of that nature," Keay said.
Pehrson insists the problem is there, though. "The thing that frustrates me is this exists, and everyone pretends like it does not exist," he said.
Pehrson was also told the Health Department couldn't do anything unless they saw it happen. Pehrson said, "He said if he didn't see a piece of trash blow from the dumpster to the river, there was nothing he could do about it."
Keay says, "We have to prove beyond a reasonable doubt who is putting the stuff there before we can take any action."
With our camera, we walked up and down a small part of the creek, and only saw trash near the dumpster. The health department's suggestion to Perhson is to call every time he finds trash, or, "He can continue to clean it up I guess if that's what he wants to do."
Pehrson says doesn't want to, but he will. "I'll let it eat at me, then I'll eventually get out here and clean up myself, again."
The county notes that Pehrson has only called on two occasions. They invite him to call more, if needed, then they will continue to re-open the case and investigate.
×
Most recent Utah stories