Estimated read time: 2-3 minutes
This archived news story is available only for your personal, non-commercial use. Information in the story may be outdated or superseded by additional information. Reading or replaying the story in its archived form does not constitute a republication of the story.
John Hollenhorst ReportingUniversity of Utah scientists say they've come up with a practical way to capture waste heat from computers, power plants, even the sun, and convert it into electricity. This surprising technology uses, of all things, sound waves.
The basic scheme is to turn heat into sound and sound into electricity. It definitely works. The question is whether it will be a small, humble addition to the energy arsenal, or a big one, with huge implications.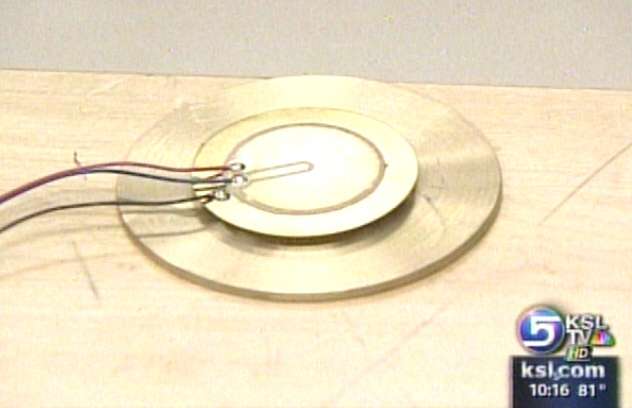 Even when not fighting in the desert, the U.S. military needs a way to get rid of excess heat from high-powered electronics like radar installations and computers. So the Pentagon is funding somewhat musical research at the University of Utah.
Prof. Orest Symko described the technology by saying, "In some ways, very similar to a flute, where you blow air in one end."
Professor Orest Symko and his students are refining old technology into a promising opportunity. Heat with chaotic sounds, noise, goes in one end, heating up an element, vibrating air in the tube.
"But eventually you hear one sound, one frequency; so you go essentially from disorder to order," Professor SYmko said. He continued, "You convert it to a form of energy, which may be useful to you."
The sound is directed at a piezo-electric device with a useful property, "That if you squeeze it, bend it, stretch it, it produces voltage. And the more sound you have hitting it, the bigger the voltage," Professor Symko explained.
It even works with extreme cold, liquid nitrogen. The sound comes from air moving from warm to cold in the tube. The shorter the tube, the higher the frequency.
The next step is miniaturization, putting tiny tubes on computer chips to convert heat into electricity.
It's already working, and all we can do is make it work better.
But suppose you did have hundreds of those things inside your ocmputer. You'd think the sound would drive you nuts, right?
Professor Symko said, "Of course, as you make it smaller, it gets into the ultra-sonic, and you're not going to be able to hear it."
It wouldn't even drive your dog nuts because the ultra-sound could be contained.
Symko says it could also work on a big scale, making electricity from waste heat at power plants and even from sunlight. They'll be making a presentation this week at a Salt Lake conference of the Acoustical Society of America.
×
Most recent Utah stories