Estimated read time: Less than a minute
This archived news story is available only for your personal, non-commercial use. Information in the story may be outdated or superseded by additional information. Reading or replaying the story in its archived form does not constitute a republication of the story.
Andrew Adams, KSL NewsradioThere's a new warning about something kids in growing numbers are using to scoot around.
Ever see kids glide past you in tennis shoes that look like they have wheels on the back? They're called Heelys. Dr. Leon Benson with the American Academy of Orthopedic Surgeons says you can easily roll yourself into broken wrists, ankles, even crack your skull if you're not careful. He says, "It's something that requires some supervision. I wouldn't recommend that people try and be too aggressive in doing tricks or stunts with them to start with. And you need the right protective gear to be safe."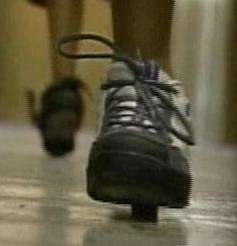 The academy says kids should wear helmets, wrist protectors, and knee and elbow pads.
The Consumer Product Safety Commission is attributing the one death to roller shoes, as well as 64 injuries between September of 2005 and December 2006.
×
Most recent Utah stories