Estimated read time: 2-3 minutes
This archived news story is available only for your personal, non-commercial use. Information in the story may be outdated or superseded by additional information. Reading or replaying the story in its archived form does not constitute a republication of the story.
John Hollenhorst Reporting If you've been feeling the heat from global warming and wish there was something you could do about it, there is! You can upgrade your home to make it energy efficient. A little-known program makes it a surprisingly good bargain.
It's a "green revolution" in financing that happened a long time ago, but not many people noticed. At first blush, it sounds implausible: a home buyer lowers his monthly costs by borrowing more than the home is worth.
Replacing his lawn with water-efficient plants was one of the first things realtor Andrew Stone did when he bought his house. Then over the last six years he's made the house much more energy-efficient, without realizing there was a better way to pay for it.
"You know, this loan program has been around since 1995, and I just learned about it three months ago," he said.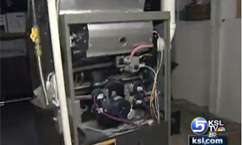 The so-called Energy Efficient Mortgage will pay for things like extra insulation, energy-efficient windows, a high-efficiency furnace, and an on-demand water-heater. Stone says many home buyers are itching for similar efficiencies.
"There is an eagerness," he said. "There's just not a lot of knowledge on where you can go to do these things."
Now, those energy saving improvements can be folded into a mortgage. Jenna Murphy of Countrywide Home Loans says it will actually lower the monthly cost of home ownership.
"I don't think people are aware that it's available for them out there, and it is," she said.
Here's how it works: The mortgage company lends more than the home is worth.
"Fannie Mae guidelines allow you to borrow up to 15 percent more than the value of your home," Murphy explained.
The extra cash can only be used for energy-efficiency and even energy-generating projects.
"Solar and wind. All those things keep utility costs down," Murphy added.
If it works out, the drop in monthly utility costs will more than offset the higher mortgage payment.
Andrew Stone said, "I find myself using my home and these items as an example all the time to my clients. I've brought them over and showed it to them, because they want to see it."
Stone is one of the first in Utah to be certified as an EcoBroker. Even people who already own a home can pay for energy projects with a refinancing or home equity loan.
So, with apologies to Kermit The Frog, it's not so hard being green, if you actually come out ahead on the deal.
×
Most recent Utah stories