Estimated read time: 3-4 minutes
This archived news story is available only for your personal, non-commercial use. Information in the story may be outdated or superseded by additional information. Reading or replaying the story in its archived form does not constitute a republication of the story.
SANDY -- The storm that rippled across the Salt Lake valley Wednesday morning presented the kind of situation power company workers tend to worry about.
It was an early winter storm, with wet snow falling on trees that still haven't shed their leaves for the winter. That's often a formula for disaster. Tree branches, weighed down with fresh snow, can fall across power lines and trigger outages.
That did happen this time on a limited basis. Sandy resident Virgil Matthews heard loud noises Wednesday morning and discovered that a large branch from his neighbor's tree had fallen on power lines. It knocked out power to 1,500 homes and businesses. Matthews said he predicted trouble to his wife a week ago.
"The leaves just haven't turned, or they haven't fell," Matthews said. "And I told her, 'If we have a snowstorm, we're going to have problems.'"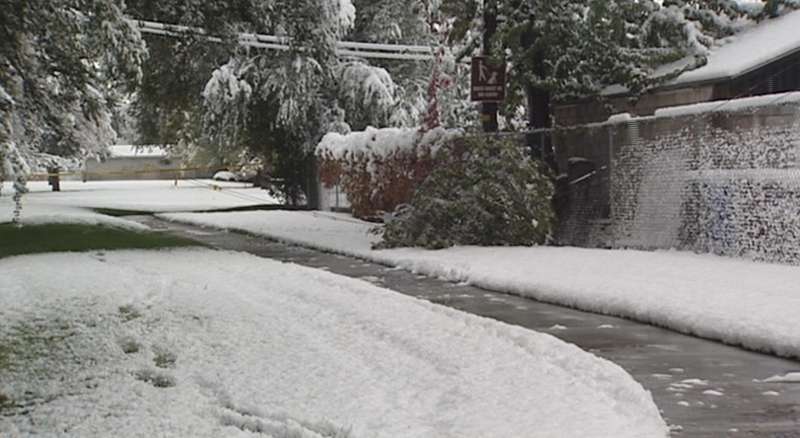 As it turned out, though, this storm produced relatively few outages, according to Rocky Mountain Power. Part of the reason is that the company learned an expensive lesson in a notorious storm seven years ago
"Any kind of snowfall when the leaves are still on the trees has the potential to do a lot of damage to power lines," said Dave Eskelsen, spokesman for Rocky Mountain Power. "The fact that we didn't have a lot of that today, I think, is testament to the benefits of an aggressive tree-trimming program."
The company's tree-trimming program drew heavy criticism in the aftermath of a tremendous storm that rolled in during the Christmas holidays in 2003. Tens of thousands lost power as tree branches fell all along the Wasatch Front. Many homes were without power for days, some for more than a week, because powerline repair crews were stretched so thin.
Rocky Mountain Power took a beating in the realm of public opinion and took it on the chin from the Public Service Commission. In a hearing in January, 2004, P.S.C. Chairman Richard Campbell said, "We as a commission have received more customer complaint calls on this issue in a short period of time than we have any other issue in the past 30 years. And there are major problems that we need to get fixed."
That led to an unusual public apology from the power company.
Eskelsen said the company responded to that low-point by beefing up the company's tree-trimming program.
"And we really have taken quite aggressive steps to make sure that our rights of way are clear," he said.
One recommendation from the P.S.C. was to put extra money into the program to catch up on trimming that had been neglected. The P.S.C. wanted Rocky Mountain Power to stay on top of the problem by visiting all problem trees on a three-year cycle. Eskelsen said that goal was achieved within a year and a half.
Now, the company uses a three-year cycle to inspect and trim trees along 18,000 miles of above-ground power lines. In the last three years, they trimmed or removed 772,771 trees. The program now costs about $15 million a year.
Matthews believes tree-trimming wouldn't have prevented what happened to his neighbor's tree. "This tree was probably 12 to 15 feet away from the lines," he said. "But when it split in half, it was enough to take the line down." Eskelsen agreed. "There's no amount of tree trimming that's going to prevent that."
Rocky Mountain Power claims the company's reliability, measured by the number of outages and their duration, has improved by 20 percent since that notorious snowstorm of 2003. Matthews echoes that claim, based on what he's seen in his Sandy neighborhood. He's seen more frequent tree-trimming and fewer power outages.
"There used to be six to eight a year," Matthews said. "Now we have maybe one. And they're very short duration, where they used to be very long duration. So I think the system is working."
Fun facts from Rocky Mountain Power about power lines and tree trimming in Utah.- 18,158 miles of above-ground power lines - 452,000 poles & supporting structures - 772,771 trees trimmed or removed in last three-year cycle - 210 Tree-trimmers at work on a typical day - $15 Million approximate annual cost of tree-trimming
E-mail: hollenhorst@ksl.com
×
Related links
Related stories
Most recent Utah stories