Estimated read time: 1-2 minutes
This archived news story is available only for your personal, non-commercial use. Information in the story may be outdated or superseded by additional information. Reading or replaying the story in its archived form does not constitute a republication of the story.
SOUTH JORDAN -- Bingham High School running back Harvey Langi was selected to play in the 2011 U.S. Army All-American Bowl, which features the nation's top 90 high school football players.
"Harvey is a talented athlete whose exemplary leadership and teamwork qualities have made him a standout at Bingham High School," said Col. Derik Crotts, Director of Strategic Communications, Marketing and Outreach, U.S. Army Accessions Command. "The strength, dedication, leadership and teamwork skills necessary to succeed on the football field are the same qualities mirrored in Army Strong Soldiers. We are proud to honor all of our U.S. Army All-American Bowl players and congratulate them on their selection."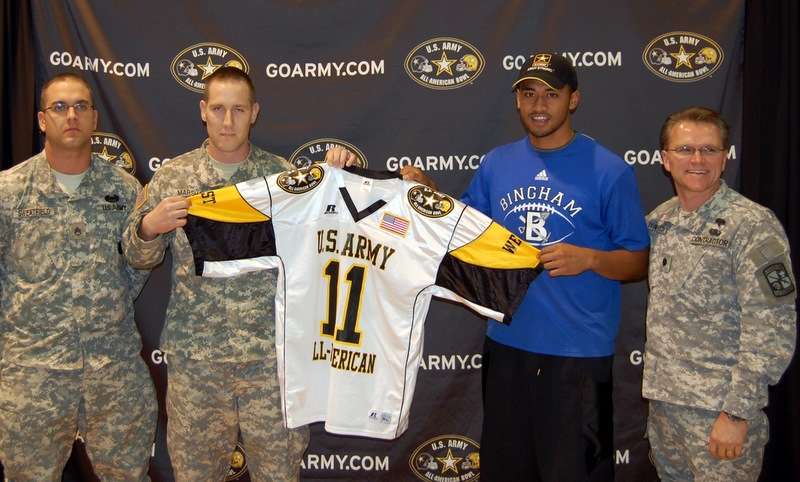 Langi was selected by the U.S. Army All-American Bowl Selection Committee, which consists of All American Games' network of regional directors, Rivals.com and Tom Lemming. U.S. Army All-American players are eligible for the U.S. Army Player of the Year Award, the Anthony Muñoz Lineman of the Year Award, the Pete Dawkins Game MVP Award, and the Glenn Davis and Doc Blanchard U.S. Army Awards.
As a result of Harvey Langi being selected to the U.S. Army All-American Bowl, his head coach David Peck is invited to travel to San Antonio and attend the U.S. Army Coaches Academy, an elite three-day learning experience featuring NFL and NCAA coaches, as well as participate in game-week activities.
The game will be played on Saturday, January 8, 2011, at the Alamodome in San Antonio, Texas. The annual East vs. West match-up will be televised live on NBC at 11:00 a.m.
The game also crowns the U.S. Army Player of the Year during Bowl Week in San Antonio.
×