Estimated read time: 2-3 minutes
This archived news story is available only for your personal, non-commercial use. Information in the story may be outdated or superseded by additional information. Reading or replaying the story in its archived form does not constitute a republication of the story.
Dr. Kim Mulvihill Reporting Your pregnancy test confirms you're expecting and now you want to know whether it's a boy or a girl! There's a company offering a new test that promises to reveal the sex of your unborn baby just weeks after conception.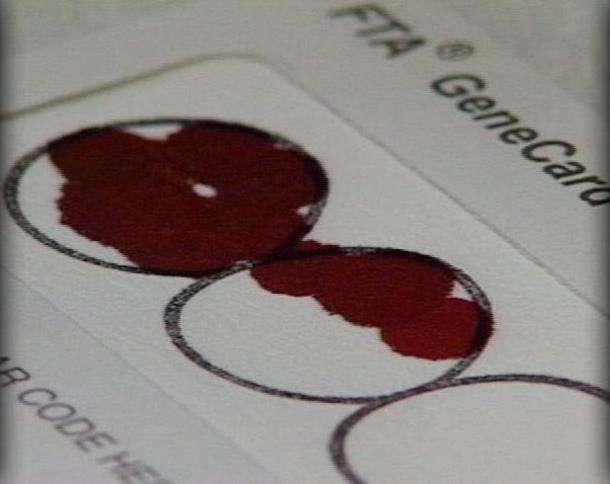 A "pink or blue" is a home test offered by Consumer Genetics. With a few drops of blood from the expectant mom, the test promises to reveal the sex of the fetus six weeks after conception. Usually four or five drops will cover the whole circle.
The test looks for male fetal DNA that leaks into the mother's blood. If it's positive, it's a boy. If it's negative, you've got a girl.
No men are allowed inside the lab where the "pink or blue" blood samples are processed, because of the risk of false positives.
Lily Nguyen with Consumer Genetics says, "There are only females touching samples so this way we erase the possible contamination of male DNA."
The other concern is accuracy. Nguyen says, "Our internal survey shows we are 95 percent accurate."
But scientists question that accuracy when a test like this is taken at home.
In addition, medical ethicist Dr. Bill Andereck of CMPC is concerned genetic tests may be used the wrong way in America. "We want to have a designer baby. The prettiest beauty queen in kindergarten class. The super athlete. The seven foot tall man. If we're doing that with the intention, the selfishness of the parent, then I have a major concern."
There is also a concern that in some countries, parents may choose abortion if the test reveals the "wrong" sex. The company says it won't ship "pink or blue" to China or India where there's a strong preference for male babies.
The FDA is not regulating the test. The kit and all lab work cost about $250. The company says it will refund customers money if the test is wrong.
To find out how to order the kit, follow the link on our website.
×
Related links
Most recent News stories