Estimated read time: 2-3 minutes
This archived news story is available only for your personal, non-commercial use. Information in the story may be outdated or superseded by additional information. Reading or replaying the story in its archived form does not constitute a republication of the story.
Ashley Hayes ReportingIn the orthopedics world, Dr. Harold Dunn has done it all, from cutting-edge surgeries, to designing implants, to chairing the department for an unprecedented 25 years.
Now, the man many credit with building the University of Utah Orthopedics Center into the only comprehensive care facility in the Intermountain West, is retiring.
Harold Dunn didn't set out to be a doctor. In fact, he attended his first year of college at New Mexico A&M on a calf-roping scholarship to appease his parents. And while he never made it to the professional rodeo circuit, he'll tell you it's still been a wild ride.
It's only fitting Dr. Harold Dunn's last day on the job would end with an unexpected celebration.
"It's definitely a surprise," he said. "I had no idea we were going to do this."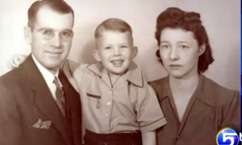 But then again, Dunn's start in medicine was as much a surprise to him as anyone else. From the time Dunn was a boy, his dream was to ride the rodeo circuit, not study medicine.
But he made an agreement with his parents to at least go to college for freshman year. It was there that a chemistry teacher encouraged Dunn to pursue a subject he excelled in: science. Dunn took the advice and at the same time learned how one person can change the course of another's life.
He's been in the business of changing lives ever since.
Steve Mendez is a long-time patient of Dr. Dunn. "Had I not met Dr. Dunn, I would probably not be walking now," he told us. "I have been walking for the last 27 years."
Mendez is recovering from his latest of 15 hip surgeries, nine of which Dunn performed and for which he designed the prosthetics.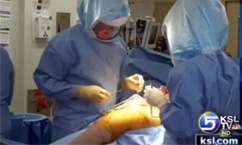 Dunn's reach extends around the world, from his time as an army surgeon in Vietnam, to his most recent trip to El Salvador.
"In three days we did 64 hips and knees on patients that otherwise would never get them and couldn't walk without them," Dr. Dunn said.
Now that he's done operating, the renowned orthopedist -- as in the past -- is looking forward to the surprises of retirement.
"I hate to leave them, but it's time. It feels good," Dr. Dunn said.
It's Dunn's colleagues and patients who are unsure about taking steps without him.
"I knew this day would come someday, but I feel like I am losing one of my very best friends," Mendez said.
"I hope this plaque expresses how we all feel about you, who have been absolutely wonderful to work with," co-workers told him.
And as for retiring to pasture, Dr. Dunn's is rather large. Addressing his first love, Dunn plans on spending more time at his Angus bull ranch in Idaho.
×
Most recent Utah stories