Estimated read time: Less than a minute
This archived news story is available only for your personal, non-commercial use. Information in the story may be outdated or superseded by additional information. Reading or replaying the story in its archived form does not constitute a republication of the story.
Marc Giauque KSL NewsradioIt's one way to beat high gas prices. A Salt Lake company that specializes in selling golf carts is now marketing several street-legal versions.
They kind of resemble golf carts, but these electric cars are actually designed to get around neighborhoods and can carry up to six passengers.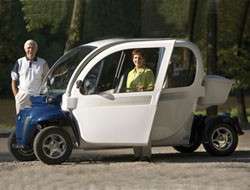 "You have to have an odometer and a speedometer," says Highland Golf's Steve Osborne, who has been selling them since the first of the year. He says the phone rings more when gas prices go up. "Ninety percent of our trips are within nine miles of our home."
You can get them stripped or with a bunch options. I saw one buzzing around the avenues, with a child seat strapped in the back. They average up to 40 miles per charge. But you won't see one on the freeway. Osborne says you can only legally drive them on streets posted at 35 miles an hour or less.
×
Most recent Utah stories