Estimated read time: 13-14 minutes
This archived news story is available only for your personal, non-commercial use. Information in the story may be outdated or superseded by additional information. Reading or replaying the story in its archived form does not constitute a republication of the story.
FINAL
Score: Utah 68, Iowa State 27
AMES, Iowa -- Utah continued its second quarter dominance in a big way en route to a 68-27 win over Iowa State Saturday night.
The Utes (5-0) outscored the Cyclones (3-3) 31-0 in the second quarter. For the game, Utah piled up 593 total yards while holding the Cyclones to just 348, with a big chunk of that coming in the 4th quarter against Utah's second and third team defense.
Final Stats
| | UTAH | ISU |
| --- | --- | --- |
| First Downs | 28 | 19 |
| Rushing Yards | 239 | 170 |
| Passing Yards | 354 | 178 |
| Total Offense | 593 | 348 |
| Turnovers | 2 | 2 |
| Penalties | 4-35 | 3-25 |
| 3rd Down | 8-13 | 0-11 |
| Red Zone Scores | 9-9 | 3-3 |
Jordan Wynn, who appeared to be hurt after a hit late in the first quarter, had an impressive day, leading the offense and scoring at will. He finished with 23 completions for 325 yards and 2 touchdowns while only throwing 1 interception. The Utes converted 8-13 3rd down attempts.
The defense, which gave up 14 points in the first quarter, buckled down and held Iowa State to just 13 points the rest of the way. Iowa State did not convert once on 3rd down (0-11).
Even the special teams did its part, with Reggie Dunn returning a kickoff for a touchdown (100 yard return) and Shaky Smithson was just 2 yards away from taking a punt all the way back (78 yard return). Kicker Joe Phillips was a perfect 4/4 on field goals and 6/6 on PATs.
Next up for the Utes: at Wyoming (Saturday Oct. 16)
Next up for the Cyclones: at Oklahoma (Saturday Oct. 16)
---
Time Remaining: 5:13 Fourth Quarter
Score: Utah 68, Iowa State 27
Sausan Shakerin is now in at running back for the Utes, and he scores his first touchdown of the season. Utah is absolutely dominating this game, leading 68-20.
ISU scores on Utah's backups to cut the Utah lead, 68-27.
---
Time Remaining: 12:07 Fourth Quarter
Score: Utah 61, Iowa State 20
Justin Taplin-Ross nearly returned an interception for a touchdown. Utah is on the ISU 12 yard line. Terrance Cain is in at quarterback.
Joe Phillips connects on a 33 yard field goal to push the Utes over 60 points. Utah leads 61-20 with 12:07 left in the game. The last time Utah scored over 60 points on the road was against San Diego State in 2008 (63-14).
---
Time Remaining: 1:49 Third Quarter
Score: Utah 58, Iowa State 20
Eddie Wide scores on a 5 yard run and this one is pretty much over. I would imagine we will see the 2nd and 3rd team the rest of the way. So far, Utah has had 62 plays and scored 58 points. Not bad. Utes lead 58-20.
---
Time Remaining: 6:08 Third Quarter
Score: Utah 51, Iowa State 20
Iowa State not giving up, driving 65 yards in just 4 plays, scoring on a Austen Arnaud pass to Collin Franklin for 36 yards. The PAT is blocked, and on the ensuing kickoff, Utah's Reggie Dunn returns the kick 100 yards for a touchdown. The last time a kickoff was returned by a Ute for a TD was back in 2004 when Morgan Scalley returned one 99 yards. The last 100 yard kickoff return was by Earl Tucker all the way back in 1985. Utah leads 51-20.
---
Time Remaining: 9:12 Third Quarter
Score: Utah 44, Iowa State 14
Utah is 2-2 on third downs early in the 3rd quarter, and have moved the ball down to the ISU 45 yard line. Utes drive deep into ISU territory, taking 5:48 off the clock and adding a 23 yard field goal by Joe Phillips. Utah leads 44-14.
---
HALFTIME
Score: Utah 41, Iowa State 14
Utah's Brandon Burton picks off Austen Arnaud and returns it 57 yards down to the ISU 8 yard line, setting up a 25 yard field goal by Joe Phillips. Utah leads Iowa State 41-14 at the half.
1st Half Stats
| | UTAH | ISU |
| --- | --- | --- |
| 1st Downs | 17 | 10 |
| 3rd down | 3-6 | 0-8 |
| Total Yards | 367 | 168 |
| Passing | 274 | 121 |
| Rushing | 93 | 47 |
| Penalties | 3-25 | 2-20 |
| Turnovers | 2 | 1 |
| Possession | 14:28 | 15:32 |
Utah has dominated in the second quarter this season. Coming into tonight's game, the Utes have outscored opponents 70-7. Tonight, Utah outscored Iowa State 31-0, to improve their season dominance to 101-7. And while the Utes turned the ball over twice, Utah's defense shut down ISU. Here are the 2nd quarter ISU drives: 1) 3 plays -2 yards PUNT, 2) 3 plays 3 yards PUNT, 3) 7 plays 44 yards MISSED FG, 4) 3 plays 0 yards PUNT, 5) 2 plays 29 yards INT. The defense held ISU to 0-8 on 3rd down conversions.
The offense was just as dominate for the Utes, racking up 31 points. Utah gained 367 yards of total offense. Jordan Wynn was sharp, throwing 16 of 22 242 yards and 2 TDs and 1 INT.
---
Time Remaining: 1:34 Second Quarter
Score: Utah 38, Iowa State 14
Utah's defense has really settled in, forcing another ISU three and out. Here are the 2nd quarter ISU drives: 1) 3 plays -2 yards, 2) 3 plays 3 yards => total 2nd quarter offense - wait for it; 6 plays, 1 yard.
After another ISU punt, Utah drives 64 yards in six plays, capped off with a 1 yard TD run by Eddie Wide. Utah has continued its 2nd quarter dominance - coming into tonight's game Utah outscored opponents 70-7 in the 2nd quarter. Tonight, Utah has outscored ISU 21-0. For the season, Utah has now outscored opponents 91-7 in the 2nd - impressive. Utah leads 31-14.
ISU drives into Utah territory and misses a 53 yard field goal to keep Utah's second quarter dominance alive. Utes score quickly on a 61 yard pass from Jordan Wynn to Shaky Smithson. Utes rolling, up 38-14 with 1:34 remaining in half.
---
Time Remaining: 6:31 Second Quarter
Score: Utah 24, Iowa State 14
Utah's defense forces an ISU three and out and will have the ball on their own 37 yard line following an ISU punt. The Cyclone punter, Kirby Van Der Kamp, is kicking the ball sky high to prevent Shaky and the Utes from setting up a return.
Utah methodically drives 63 yards in eight plays, capped off with a 1 yard run by Matt Asiata. Wynn was a perfect 3-3 for 37 yards on the drive, and the Utes lead 24-14 (Remember that 24 is the magic number, ISU is 9-0 under current coach when holding opponents to under 24 points, 1-8 when giving up 24 or more).
---
Time Remaining: 10:25 Second Quarter
Score: Utah 17, Iowa State 14
Kirby Van Der Kamp's punt is far away from Shaky and gets a great bounce - the Utes will start on their own 12 yard line. Utah converts a 3rd down on an option pitch to Eddie Wide to the right. Utah inside ISU territory and driving, three 3rd down conversions so far, ball on the ISU 32 yard line. The next play, Shaky Smithson takes a reverse pitch and throws it 32 yards to DeVonte Christopher who made a great play in the end zone. Utah regains the lead, 17-14. Nice drive by the Utes, going 88 yards in 11 plays and taking 4:23 off the clock.
---
Time Remaining: End of First Quarter
Score: Iowa State 14, Utah 10
Utah comes up inches short of getting first down, and is forced to punt. ISU will take over on their own 25 after the punt. Utah's defense needs to step up and force a stop here. And it does - Matt Martinez and Conroy Black sack ISU QB Austen Arnaud on 3rd down to force a 4th and 15.
---
Time Remaining: 3:28 First Quarter
Score: Iowa State 14, Utah 10
Iowa State will start their next drive on their own 29 yard line. Utes hold ISU to a 3 and out with great defensive play, the first a tackle for loss of 5 by Lamar Chapman. Shaky Smithson returns the punt 78 yards to the ISU 2 yard line, weaving through traffic, nearly running the length of the field plus the width of the field and almost scoring before running out of gas. The 78-yard return is the 6th longest in school history for the Utes. Utah scores 1 play later on pass from Wynn to Wide, 10-7 Utah takes the lead.
Utes force a Iowa State punt after allowing the Cyclones to move to the Utah 45 yard line, and the Utes will start 1st and 10 on their own 20 yard line. Wynn throws pick on first play, and ISU will take over on Utah 37 yard line. Two turnovers for Utes already and we are still in the first quarter. Four plays later, ISU QB Austen Arnaud completes a 20 yard strike to Jake Williams. ISU regains the lead, 14-10.
---
Time Remaining: 8:53 First Quarter
Score: Iowa State 7, Utah 3
Here we go! It is the Mountain West Conference against the Big 12 as the Utes take on the Iowa State Cyclones. Picture perfect weather, sunny skies and a mild 79-degrees as we countdown to kickoff. Utah is in their red pants and white jerseys, while Iowa State is in red and yellow jerseys and yellow pants.
Utah won the coin toss and has deferred to the second half. Iowa State will start with the ball going from north to south in the stadium. Great kickoff coverage for the Utes as Iowa State will start back on their own 18.
Alexander Robinson helps Iowa State move to their own 41 yard line before the Utes force a Cyclone punt. Great punt by Kirby Van Der Kamp who pins the Utes back on their own 3 yard line.
Eddie Wide fumbles on Utes' second play, setting up 1st and goal for Iowa State on the 7 yard line. The Cyclones score 3 plays later on a Alexander Robinson rush for 2 yards. 7-0 ISU.
Utes move down the field quickly as Wynn connects with DeVonte Christopher for a 53 yard gain. Two plays later Wynn gets hit after a throw and laid on the field for a few moments before jogging off. He is being attended to on the sideline. Utes' get down to the ISU 6 yard line and Joe Phillips puts the Utes on the board with a 23 yard field goal. ISU leads, 7-3.
---
Pregame Blog
Utah Head Coach Kyle Whittingham knows how to use extra preparation time wisely. When given eight days or more to prepare for an opponent, he has led the 10th-ranked Utes to 15 consecutive wins, dating back to the 2007 season.
The Utes (4-0) will go for 16 straight today as they face the Iowa State Cyclones following a bye last week.
"I think our success in those situations is mostly attributed to our players and the work ethic they have, and focus, and the way they go about their business," Utah coach Kyle Whittingham told the Deseret News.
The Cyclones (3-2) are coming off a big 52-38 win over Big 12 Conference foe Texas Tech, a win that Paul Rhoads thinks was Iowa State's first complete game in his two seasons of being Head Coach.
"It was a great Big 12 win to get at this early point in the conference and if we can play off of that confidence and help foster it we will indeed see if we have turned a corner," Rhoads said.
Game 5 Notes

No. 10 Utah Utes (4-0, 2-0 MWC)

at Iowa State Cyclones (3-2, 1-1 Big 12)

Date:

Saturday, Oct. 9, 2010

Time:

6:00 p.m. CT (5pm MT)

Site:

Jack Trice Stadium (55,000, Grass)

TV:

Fox College Sports (Comcast: 262, 263 or 264) (DIRECTV: 617 or 623)

Radio:

ESPN 700

Series Record:

Iowa State leads 4-0

Last Meeting:

1976 (ISU 44, UTAH 14)

Kickoff Weather:

Sunny; Temps: upper-70s

*********************

It's the first road trip for me covering the Utes this season, and one that wouldn't be possible without a major contribution by Mark Hyland. A big thanks to him for helping make this trip possible.

The Midwest is known for its good food, and already I have been impressed. From Omaha's "Big Momma's Kitchen" to "Jethro's" in Des Moines, the 1,115 mile drive from Salt Lake City became a lot more tolerable with the great food we have had.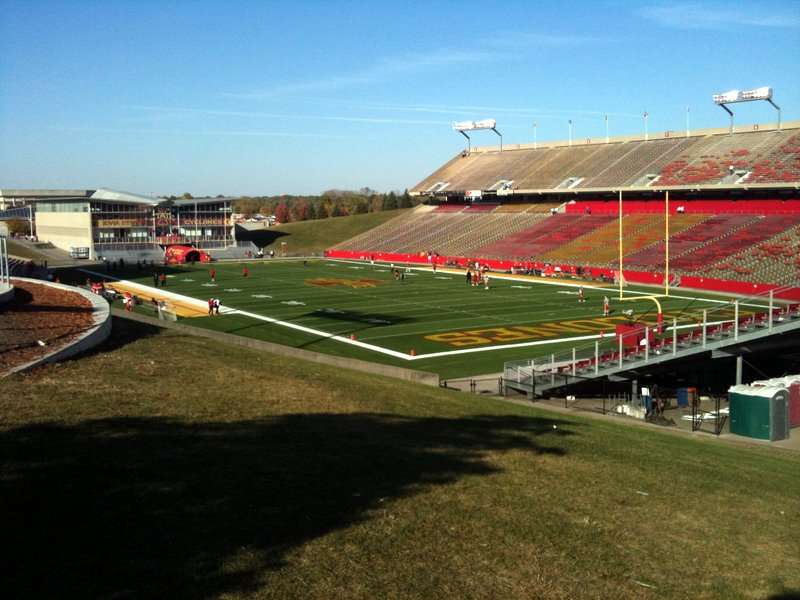 I'm heading to the stadium now and will have another report before kickoff.
---
I just arrived at Jack Trice Stadium at Iowa State University. The stadium is named after the first African American Athlete in school history. Trice died from injuries he sustained in a football game in 1923. In 1984, Iowa State officials changed the football stadium complex to Cyclone Stadium/Jack Trice Field, and it was permanently dedicated as Jack Trice Stadium in 1997. A statue of him greets fans as they enter the east side of the stadium.
---
4:03 Update: Some of the Utes just came out of the tunnel wearing their white jerseys and red pants. The quarterbacks are practicing taking snaps under center while the special teams is warming up on field goals and punts.
One of the underlying keys for today's game is the battle of the line of scrimmage. They are averaging 169 yards on the ground in their three wins, while being held to 125 yards (avg) for their two loses. Meanwhile, the Utes have held three of their first four opponents to under 100 yards rushing, including holding preseason Heisman Candidate Dion Lewis (Pitt) to 75 yards.
************************
Keys to the Game for Utah
Light up the scoreboard - Iowa State is 9-0 under head coach Paul Rhoads when holding opponents under 24 points, while just 1-8 when allowing more than 24 points. The Utes are averaging 44.2 points per game, a trend that will need to continue for the Utes to stay perfect in the young season.
Win the turnover battle - A big focus for the defense in practice this week and over the bye week was forcing turnovers. The Utes have forced only four turnovers this season
MY PREDICTION: Utah 34, Iowa State 27. Let me know what you think. Email me your predictions/questions rojackson@ksl.com
Series Snapshot ...
Utah trails 0-4 in a series played out entirely in the 1970s until now. The Utes are 0-2 in both Salt Lake City (1970, 1975) and Ames (1972 and 1976).
Utah Miscellaneous Stats
Utah coach Kyle Whittingham's teams are 5-0 coming off regular season bye weeks, with victories over Wyoming (2005, 2007), Colorado State (2006, 2009) and New Mexico (2008)
Counting bowl games and season openers, Whittingham is 15-2 when he has had extra preparation time. Whittingham is 4-2 in season openers, 5-0 coming off byes and 6-0 in bowl games (his bowl record includes a victory as the co-head coach of the 2005 Fiesta Bowl team).
Utah is ranked in the top 10 in the nation in both scoring offense (44.2 ppg, tied for No. 6) and scoring defense (12.8 ppg, No. 7).
The Utes are also ranked No. 7 in total defense (246.8 yards per game), No. 7 in pass efficiency offense (172.8) and No. 11 in rushing defense (86.8 ypg)
Utah is outscoring its foes 70-7 in the second quarter
The Utes have scored on 15-of-17 (88%) trips into the red zone with 13 touchdowns (76%)
The Utah defense has given up just three touchdowns in its last three games, with the other two touchdowns coming on a fumble return and a punt return
The Utes have allowed just two touchdowns inside the red zone this season
Iowa State Miscellaneous Stats
Iowa State is 3-0 at home this season, with wins over Northern Illinois, Northern Iowa and Texas Tech
Iowa State is 9-0 under head coach Paul Rhoads when holding teams under 24 points and 1-8 when allowing more than 24 points.
Kicker Grant Mahoney has hit seven straight field goal attempts
Alexander Robinson leads the Cyclones in rushing with 76 attempts for 404 yards and 4 touchdowns.
×
Related links
Most recent Utah stories