Estimated read time: 3-4 minutes
This archived news story is available only for your personal, non-commercial use. Information in the story may be outdated or superseded by additional information. Reading or replaying the story in its archived form does not constitute a republication of the story.
SALT LAKE CITY -- The Salt Lake School District now has two beekeeper suits to protect employees removing wasp nests. It's part of the district's effort to protect students from pesticides.
One nest was spotted under the steps of a portable classroom. Every time kids walked up and down the steps, wasps came buzzing out. They love close access to food and water, so many times wasps and hornets set up shop on Dumpsters behind schools, under eaves near the cafeteria, or on fences and playground equipment near flowers and bushes.
---
Pesticides are a last resort. Pesticides and young children especially do not mix.
–Ricardo Zubiate
---
Just last week, crews removed seven nests in two days from Salt Lake elementary schools.
The district's custodial supervisor Ricardo Zubiate says the best time to remove nests is early in the morning when they are dormant.
"Especially if it's a little bit cold, they are almost in a stage where they can't fly. It's important for us to get to them at that time," says Zubiate.
But the problem comes when students, teachers or parents try to take matters into their own hands. They bother the nests and break them.
"When people disturb the nest in the middle of the day, there are a lot of them that are still out there foraging and haven't been back to the nest yet. That's why we go for them in the morning, because we know 99 percent of them should be in there at that time," Zubiate explains.
He says recently his staff members were put in danger when they came upon a broken nest full of angry wasps. That's when the district decided to get the bee suits.
"Someone had already taken action into their own hands because they didn't understand how we deal with it," says Zubiate.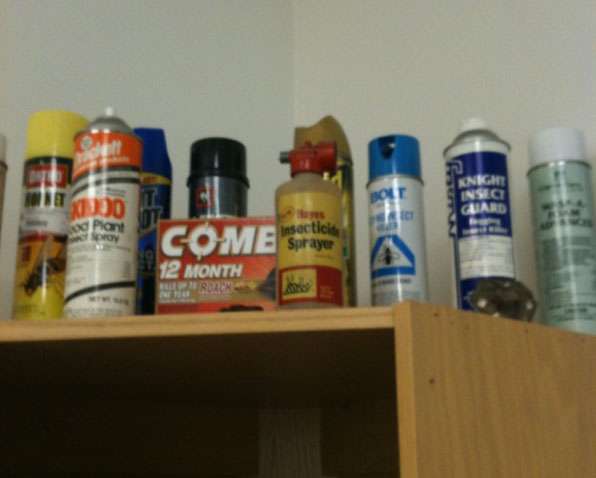 He says the Salt Lake district used to spray large portions of school buildings with pesticides up to 170 times a year. But now it's practically never.
In 2006 the district switched to a system called Integrated Pest Management (IPM) to remove ants, voles, wasps and other pests. It focuses more on prevention and education. Zubiate says if pesticides have to be used they are applied in a much more targeted way.
Since 2006, pesticides have been used only 14 times. Two of those times were unauthorized applications from other people. The district custodial staff is now licensed to apply chemicals if needed, and this has saved the district $28,000 a year by not using an outside pesticide company.
"Pesticides are a last resort," explains Zubiate. "Pesticides and young children especially do not mix."
The district custodial staff works a lot on education, says Zubiate. He pointed to a shelf in his office full of confiscated chemicals and bug bombs that teachers and other employees have tried to use.
"Pesticides don't prevent pests. They will kill them but won't prevent them. IPM is all about prevention," he says.
That's why the bee suits are coming in handy. Now custodial staff can safely get rid of pests without putting themselves, or children, in danger.
E-mail: mrichards@ksl.com
×