Estimated read time: 4-5 minutes
This archived news story is available only for your personal, non-commercial use. Information in the story may be outdated or superseded by additional information. Reading or replaying the story in its archived form does not constitute a republication of the story.
Debbie Dujanovic Reporting
Produced by Kelly JustRacing, bullet, sports bikes -- whatever you call them, they're popular, get great gas mileage and are cheaper to buy than a car. They've probably caught your attention at some time, but what caught ours was a dangerous trend: the lax law that lets riders with zero experience hit the road.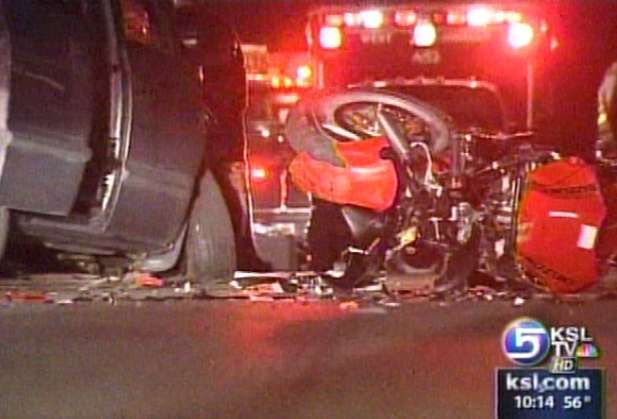 The toll is crashes, deaths and serious injuries. You've never driven a motorcycle before? No problem. In Utah there's no experience necessary.
The thrill is undeniable. Salesmen bragged about such things as "114 miles per hour in first gear," "zero to 100 in five seconds," even "You can wheelie on them forever."
But the risks are undeniable, too. Crash after crash we've tracked them. In Utah there have been nine deaths in 13 months, with three just this spring.
In hospital ERs, sport bikes are known as "donor cycles." Ed Sciore works in University of Utah Hospital Trauma Pavillion. He says, "They do come in with much more severe injuries because of their speed alone. Depressed skull fractures, intercranial bleeding, uh, multiple muscular skeletal injuries, fractured legs, open wounds."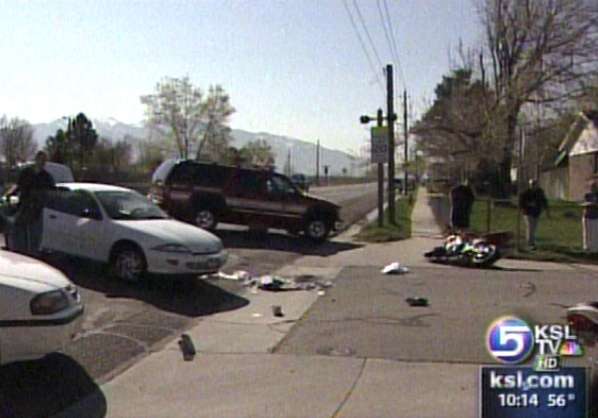 Sherry Downard's son died in a crash. She says, "That's all it took for Chris was one mistake. Her 23-year-old son Chris was testing the limits. He got his new bike up to 100 miles an hour, then, "When he went to pass a car on the right, there was a parked diesel trailer and he ran into the back of it."
Chris died instantly. It was maybe his fourth time on the bike. He bought it bike with zero experience.
"He said it was kind of wobbly because he was trying to get used to it and keep it within the lanes of the road," Sherry said.
After talking with parents of those who've died, we noticed a disturbing pattern of stories like Chris'. The stories are full of new riders buying high-powered machines and driving them off the lot then hitting busy city streets to start training themselves.
We went undercover to six motorcycle shops to pinpoint why it's happening and who's to blame. The salespeople told us straight up the bike's dangerous, but that's half the fun. When our producer revealed he'd never ridden one and didn't have a motorcycle license, he was told, "You don't need one, not to buy it and ride it."
That's right, in Utah you don't need to know how to handle one to drive it; you just need to pass a written test at any DMV office.
One salesman explained, "You can go down there right now and take a little test and they'll give you a permit. And you can legally ride for six months."
That's right, state law says new riders with a permit can train themselves for six months on public roads before taking the driving part of the test. We discovered many of these drivers are killed or get seriously hurt before they can make it back.
A major government study on motorcycle crashes shows most involve self-taught drivers. The state's own motorcycle study guide warns about the risks. Bikes require special skills and knowledge.
Dale Bell is a motorcycle enthusiast who runs safety classes for thousands of riders each year, classes the state doesn't require. He told us, "The first six months is the most hazardous time for a rider because, well, because they haven't ridden."
New technology make these machines faster, cheaper to own and more popular than ever. State law, though, is standing still, with no changes in 15 years.
Bell says now might be the time for Utah to switch to a licensing system that works in other countries. "You have to ride smaller bikes before you can progress to a larger bike, and you have to test at different levels to prove you have the ability to drive these larger machines."
Downard says, "I really hate to see any other parents lose their child over this. Some laws or something needs to change."
Wondering if the written test to get a permit is hard? Our producer went online, printed out the state study guide, read it over two or three times and in less than 24 hours got this permit. The permit gives her permission to drive a motorcycle on Utah roads while teaching herself enough skills to pass a road test. The last cycle she's driven is a 10-speed. No worries, according to the state of Utah.
×
Most recent Utah stories