Estimated read time: 2-3 minutes
This archived news story is available only for your personal, non-commercial use. Information in the story may be outdated or superseded by additional information. Reading or replaying the story in its archived form does not constitute a republication of the story.
Sam Penrod ReportingA dispute between a property owner and a small Utah town is getting ugly, and neighbors are caught in the middle.
Joel Cowan, a Nephi resident, said, "The gentleman who owns the property started spraying the signs and vulgarities all over on this trailer."
The dispute is being heard all the way from Nephi. The property owner is deliberately creating an eyesore. It looks like graffiti, but in this case the property owner is the one doing the writing, and neighbors have had enough. They are demanding action from the city, because it keeps getting worse.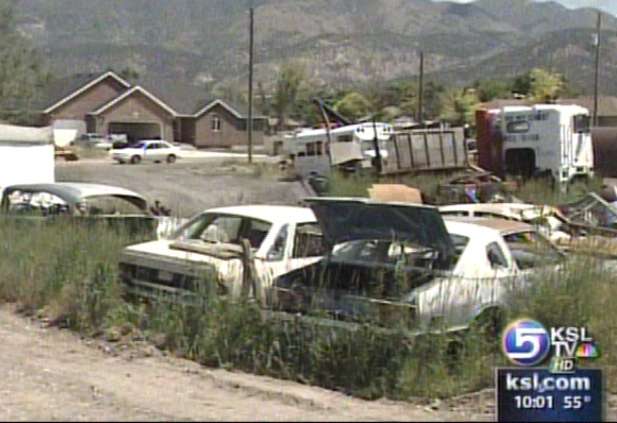 From a distance, the property looks like a wrecking yard, but it's right in a Nephi neighborhood. While neighbors don't like seeing the junk, it's what is written on the junk that has them really upset.
Nephi resident Will Latham said, "With our kids around, they don't need to see it, and I don't appreciate it either."
We can't show most of what the graffiti says-- neighbors call it obscene, offensive and vulgar, and it is exactly what they have to see every day.
Latham says, "He is slandering our officials in the city, our city administrator."
Cowan says, "This is the property owner. We've caught him in the act several times painting on the signs."
Last week 18 neighbors went to the city council demanding something be done. "It makes me wonder why in my own hometown where I've built a home and raising a family, why we have to tolerate such profanity and such ignorance," Cowan said.
KSL tracked down the property owner, John Phillipsen, and asked him for an explanation about why he is doing this. He says, "These politics in this small town has got a lot of dirty corruption, and it just needs to be cleaned up."
Phillipsen accuses the police department of being corrupt and believes the city unfairly rezoned his property from industrial to residential, dramatically reducing his property value. When asked what it will take for him to clean it up, he replied, "If they get rid of the dirty cops and city manager and treat everybody the same here, I will clean it up."
The city administrator says after the meeting last week the city began looking at its legal options to resolve the situation.
×
Most recent Utah stories