Estimated read time: 2-3 minutes
This archived news story is available only for your personal, non-commercial use. Information in the story may be outdated or superseded by additional information. Reading or replaying the story in its archived form does not constitute a republication of the story.
Jed Boal Reporting A man in Kimball Junction spotted a bear this morning and snapped the pictures you'll see only on Channel 5.
A bear sighting in Utah certainly isn't unheard of. But wildlife spokesmen say it's rare when one wanders through Kimball Junction in broad daylight.
It seems the young black bear strolled by the outlet mall, didn't find what he was looking for and headed for higher ground.
John Evensen has lived in Park City seven years. But at 6:15 a.m., while driving to work, he got a stunning reminder that his community is surrounded by wilderness.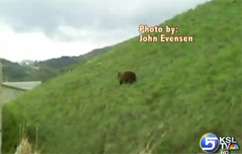 "I just couldn't believe it. I was on the phone with a friend and I said, 'Hey, there's a bear on the side of the road.' I thought nobody would believe me. So I had to get off of the phone and actually take some pictures," he said.
He followed the bear around a ridge behind the outlet mall and snapped some pictures. Evensen says he wasn't scared, but the bear probably felt a long way from home.
"He turned around on his hind legs and looked at me. That was about it," Evensen said.
He called 911 because he didn't want anyone to get hurt, especially kids who would be heading to the bus stop.
Conservation officer Dave Swenson got a call. He says sheriff's deputies spotted the 100- to 130-pound bear, and the bear went over the mountain.
"They're very secretive creatures, so they're not seen very often," he said.
Swenson thinks it could be a two-year-old, shooed away by its mother and seeking its own turf. We showed the photos to people who live right where the bear wandered by.
Julie Kuster told us, "At first I thought, oh my, because I recognized the condominiums right over there. I thought, that's really close. That's a scary thing."
Another resident said, "I've seen some wildlife around here, but not bears. Just some deer."
People who saw the photos hope to see the bear from a safe distance.
Nevin Brown said, "I've walked back there before, when I've walked to the Olympic Park to go skiing. But I guess I'm not going to walk that way anymore."
The conservation officers say they want to know if more people spotted this bear. Right now it doesn't seem to be a problem. But if it starts crossing paths with humans frequently, they'll have to trap it and find it a new home.
×
Most recent Utah stories