Estimated read time: 3-4 minutes
This archived news story is available only for your personal, non-commercial use. Information in the story may be outdated or superseded by additional information. Reading or replaying the story in its archived form does not constitute a republication of the story.
HERRIMAN -- While the fire that scorched thousands of acres and displaced thousands of families in Herriman could have caused much more devastation, that's not much comfort to the three families who lost their homes -- and those who risked their lives saving theirs.
Man loses 35-year-old home
---
What hurts the most is I built it with my hands, and I wanted to give it to my daughter.
–Val Johnson
---
The fire claimed Herriman resident Val Johnson's lost his home, which he built in the 1970s.
"I was one of the very first ones to come up here. It was my dream house. It still is," Johnson said.
Johnson lived in his dream home for 35 years. It stood strong until Sunday night when the fire rushed down the mountain.
Related:
Johnson was camping over the weekend and found out Monday morning by phone that his house was destroyed. KSL News was with him when he saw the remains for the first time.
His precious 1930s hot rods are gone. Pictures and memorabilia from his grandparents are lost. They're things that simply cannot be replaced.
"What hurts the most is I built it with my hands, and I wanted to give it to my daughter," Johnson said, fighting back tears.
Johnson is supposed to see his daughter's wedding in Spain in October, but his ticket and passport were also burned in the fire -- a fire that Johnson believes never should have happened. He says Camp Williams is to blame.
"They're just way too close for the civilization that's caught up to them now," Johnson said. "They're going to have to move that base out somewhere. It's just way too close."
Despite the fire danger, Johnson loves this area too much to move. He was there before Herriman developed, and he plans to stay.
"I'll rebuild," he said. "It will come back."
Family loses everything in fire
While flames raced across the mountainside Sunday, Jackie Burns couldn't put out the pit in her stomach.
"I always thought, 'What would you grab?' And I've looked around, and what are my priorities?" said Jackie Burns, whose home was one destroyed by fire. "I didn't grab any of the pictures. They're all gone."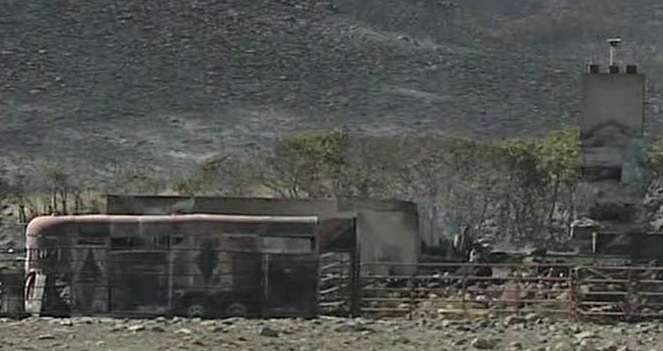 Her husband, Robert, was the last person to leave their home -- the house they built themselves 34 years ago. He watched the flames reach their property, dumbfounded at what a stray bullet and some wind can do.
The next time they saw their home it was in a picture on the front page of the newspaper. At that moment, they knew there was nothing left.
"Everything's gone," Jackie said.
"I'm 63 years old. I'm too old to start over," said Robert.
The Burns' neighbors faired far better: The fire line stopped just feet before their home, but it wasn't without a fight.
"I drug a 200-foot hose and we stood up here for about three hours keeping the flames off the house," said neighbor Jon Olsen.
Now Robert and Jackie Burns and two other families are starting over, knowing some things can't be replaced.
"It's like, 'Somebody pinch me, wake me up,'" said Jackie.
The Burns family home was completely paid off, and much of what they lost are family heirlooms and antiques.
Neighbors told KSL the couple has suffered some serious health problems, so this is a huge loss for them.
The U.S. Department of Homeland Security's Federal Emergency Management Agency has authorized federal funds to help cover 75 percent of the costs related to fighting this fire.
------
Story compiled with contributions from Nicole Gonzales, Jennifer Stagg and Randall Jeppesen.
×