Estimated read time: 2-3 minutes
This archived news story is available only for your personal, non-commercial use. Information in the story may be outdated or superseded by additional information. Reading or replaying the story in its archived form does not constitute a republication of the story.
Tonya Papanikolas ReportingThe Davis County jail is expanding to accommodate the growing number of inmates. Crews broke ground on the project this spring and right now pre-constructed jail cells are being moved into place.
The original jail was built to house 192 inmates. Right now it boasts almost 500 beds with portable cots on the floor. Davis County officials say the crowding causes more problems and inmate fights so they're looking forward to the new expansion.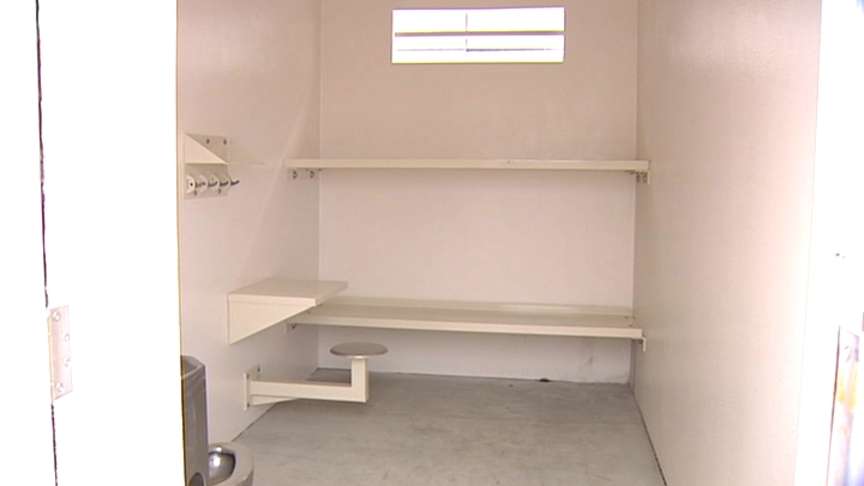 The pre-constructed jail cells weigh up to 70-thousand pounds and are carefully being maneuvered into place behind the current Davis County jail.
Chief Deputy Kevin McLeod, Davis County Sheriff's Office: "To have the cells precast and ready to go is certainly a time benefit for the project. Time equals money."
60 cells blocks will be added. They come to Utah pre-made with the floors attached and the fixtures in place.
Bruce McDonough, Layton Construction Senior Manager: "The bunks are already in them, the toilets are already in them, the plumbing's in."
The cells have a window and desk in addition to double or single bunks. Inmates will be able to hang towels and clothing on wall hooks. Outside, the heavy steel doors open only by key or remote and a slot in the door is made to slide in food or handcuff an inmate. But the cells are just part of the expansion project.
Bruce McDonough: "One of the pods that we're adding is a dormitory pod. There are no cells, it basically will be open."
The county says they're grateful for all the extra space.
Kevin McLeod: "We've been overcrowded for the last six or seven years."
... causing the jail to turn away inmates.
Kevin McLeod: "I can say that we haven't had to release any real dangerous people at this point. But they're people that should have been in jail."
This expansion will add another 400 beds, making it safer for inmates and staff.
Kevin McLeod: "They're excited to finally have some room and be able to spread out and be able to properly manage and classify and run a jail the way it really should be run."
The new additions will include a maximum security unit for female inmates, which the jail has never had. The project is expected to be finished in October 2006. The county admits it's a temporary fix; they expect to face overcrowding issues again by the year 2012.
×
Most recent Utah stories