Estimated read time: 1-2 minutes
This archived news story is available only for your personal, non-commercial use. Information in the story may be outdated or superseded by additional information. Reading or replaying the story in its archived form does not constitute a republication of the story.
Whit Johnson ReportingAn afternoon hike Saturday ended with a grisly discovery. A hiker found the body of a woman in Big Cottonwood Canyon, just below Solitude.
Authorities believe the body is that of a woman in her mid-20s. They found some identification on the body. They are using that to try to verify her identity. But right now, we still don't know who she is.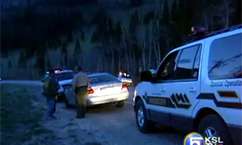 A hiker made the discovery earlier today while walking along a creek just west of Solitude. The Salt Lake County Sheriff's Office is not speculating on the cause of death, but they did not see any obvious signs of foul play. Search and rescue crews were able to remove the body just before the sun went down.
Lt. Rod Norton of the Salt Lake County Sheriff's Office said, "We actually used the search and rescue swift water recovery team because of the speed of the water and the force that can be associated with that. When you deal with something like this, you don't want to have any additional mishaps. So, we use those professionals to go down there and do it properly so we have safety with the recovery, and respect and dignity go along with it."
An autopsy will be performed to determine the exact cause of death. Meanwhile authorities will look into that identification they found on the body, in hopes of locating next of kin.
×
Most recent Utah stories