Estimated read time: 2-3 minutes
This archived news story is available only for your personal, non-commercial use. Information in the story may be outdated or superseded by additional information. Reading or replaying the story in its archived form does not constitute a republication of the story.
Alex Cabrero Reporting A lot of miners in the Price area will never forget getting laid off of work right before Christmas. Now, though, most of them have their jobs back.
About 100 miners were laid off when UtahAmerican Energy said the mine they were working in was dangerous. The company's CEO said those miners would be rehired after the company made the mine safer.
At the time, miners we spoke with said they didn't believe the company's promise. But it turns out, the company kept its word.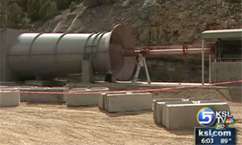 A new fan project cost millions of dollars to build. But it could save lives, so it's true cost is priceless.
Bruce Hill is the CEO of UtahAmerican Energy, the company that runs coal mines in Price. He said, "Our philosophy is we'd much rather have somebody on the ground than six feet under the ground."
UtahAmerican took over operations of these mines this past August. Just a few months later, a week before Christmas, the company had to lay off nearly 100 workers.
"When UtahAmerican Energy came in," Hill said, "I think our reputation quite frankly suffered. People didn't know what was happening. They saw the reduction in December."
Miners we spoke with at the time weren't too happy.
"They're keeping people with less time, less experience to do my job," one of the miners said. "In my opinion, it just ain't right."
But all along, Hill said those workers would get their jobs back in a few months.
The reason for the layoffs was an unsafe level of methane inside the Tower Mine. Rather than allow miners to work in those hazardous conditions, the company decided to lay them off and fix the problem.
"We didn't want to run the risk of getting somebody seriously injured or worse," Hill explained.
Now the workers are back, with fans pumping 700,000 cubic feet of air per minute into the coal mine. That's enough to keep any dangerous gases from building up.
"That's priority number one," Hill said. "Plain and simple. We want a safe mine. We want a productive mine. We want a low-cost mine. But safety comes number one."
Of the hundred or so miners who were laid off, only 16 didn't come back. UtahAmerican also hired an additional 75 workers to keep that coal production going.
×
Most recent Utah stories