Estimated read time: 2-3 minutes
This archived news story is available only for your personal, non-commercial use. Information in the story may be outdated or superseded by additional information. Reading or replaying the story in its archived form does not constitute a republication of the story.
Keith McCord Reporting At the beginning of the NBA season there weren't a lot of Utah Jazz fans who thought the team could go deep into the playoffs, if at all! Well, they were wrong, but thrilled nonetheless.
The biggest fan has to be owner Larry Miller. He sat down exclusively with Keith McCord today, to talk about the team, the fans and the future.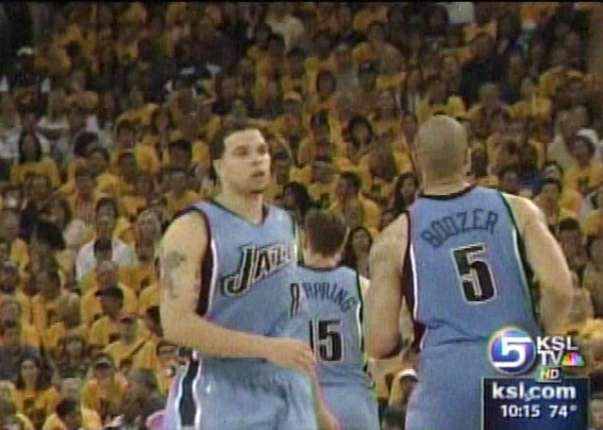 Larry H. Miller loves this basketball team! Fast or slow, the team can keep up with anybody, which also keeps Miller's blood pressure up at times.
"But I have to say that during the Golden State series, my anxiety level went up significantly, not to the red meter level, but it was up there," Miller said. And "up there" it will mostly likely stay as the Jazz continue deeper into the post season.
Miller isn't surprised that his team is in the playoffs but is pleasantly surprised at how well all the players contribute. "I mean, they really care about each other, uplift and encourage each other. And that's something that I've seen in a different way than I've ever seen in the past."
Miller says he's neutral on which opponent comes next, although he believes the Jazz match up better with San Antonio. Whatever happens, he's very optimistic about the future. "And I can honestly say there's nobody on the team that I hope isn't here next year."
Most will be back, and Miller is confident they'll make solid runs in the next several years, starting now. "I honestly believe that if we play as well, as we played in most of the 12 playoff games so far, we can win and go onto the championship and conceivably win that-- no matter who's there," he said.
It's going to be a fun ride!
We will have more from his interview as the playoffs progress, plus Larry Miller will take your phone calls live on Sportsbeat Sunday at 10:35 Sunday night, and KSL will have team coverage, when the Jazz play again.
×
Most recent Utah stories