Estimated read time: 2-3 minutes
This archived news story is available only for your personal, non-commercial use. Information in the story may be outdated or superseded by additional information. Reading or replaying the story in its archived form does not constitute a republication of the story.
Tonya Papanikolas An 8th grader in Cache Valley has beat out over half a million other students to win a nationwide visual arts contest. The boy says he's been painting since elementary school.
Every Thursday after school, 14-year-old Jonathan Cook attends Art Club at his old middle school, Willow Valley Middle School in Wellsville, where he gets to do what he loves: paint.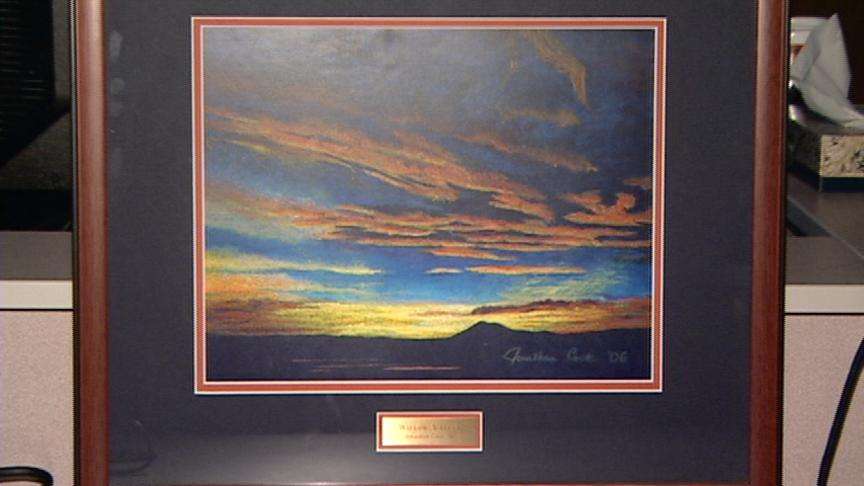 Cook paints landscapes, portraits and abstract works, often based on photographs. "I use oil pastels, mostly," says Jonathan. I like being creative with it, I guess. It's lots of fun."
Recently, the model student entered one of his paintings in his school's Reflections contest. The theme of the reflections contest was "My Favorite Place," so Jonathan decided to do something representing the beautiful Cache Valley.
Roger Cook, Jonathan's father, says "He loves home. He loves Cache Valley. So the picture he drew epitomized everything he loved."
After winning at the school level, Jonathan took the prize at the district, regional and state competitions and then the national competition.
"I didn't expect it to go this far. But it was pretty exciting when I heard the news," Jonathan says.
Isaacs says, "I had goose bumps for two days. I went home and called everyone I knew."
This isn't the first time Jonathan has won a prize for his art. His beautiful tree painting won the Best of Show prize at the Cache County Fair.
His dad Roger says, "He's my retirement investment, absolutely."
Jonathan says he would like to eventually sell some of his paintings, but he doesn't plan to be an artist as a profession. He wants to be an architect. But for now, these Van Gogh pastels are in the right hands.
The state PTA chair says it's been at least a decade since a Utah student took home a national Reflections prize. Jonathan will travel to St. Louis next month to receive $800. He also won $200 for his school.
×
Most recent Utah stories