Estimated read time: 2-3 minutes
This archived news story is available only for your personal, non-commercial use. Information in the story may be outdated or superseded by additional information. Reading or replaying the story in its archived form does not constitute a republication of the story.
MAPLETON, Utah (AP) -- The city agreed to pay $202,000 to a farmer whose dream to raise dairy cows was overwhelmed by complaints from neighbors who didn't like the odor.
Paul Opfar had a dairy farm in an area zoned for agriculture, but his permit was yanked in March by the Utah County Board of Adjustment.
The City Council voted unanimously Tuesday to reimburse him for the costs of developing the farm. Officials said the price probably was a bargain for the city. "Quite frankly, Mr. Opfar is not seeking all the claims he might seek in court," city attorney Eric Johnson.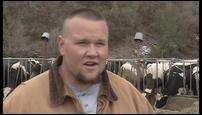 Indeed, Opfar followed the advice of the Mapleton city planner in starting the dairy farm.
"Poor decisions were made early on -- not by Mr. Opfar -- and now the city has to pay for it," Mayor James Brady said. "We are paying now because city employees created this problem."
Joyce Clifton, who with her husband led the campaign to shut down the farm, said the odor from the milk barn made them "prisoners in their own homes." "I will be elated to see those cows go," said Clifton, who lives downwind. "We have just been waiting patiently for the city to settle with Paul so we could have this all over with."
Opfar left the meeting in tears. He said he and his wife, who is eight months pregnant, have been "stressed out" since 19 neighbors filed a complaint in August, a month after the permit was granted.
Although the area is zoned for agriculture, neighbors said Opfar's farm was too close to homes. "I can appeal, yeah," Opfar said, referring to the decision by the county Board of Adjustment. "But if I appealed it and stayed there, I'm going to be pushing the whole way. My neighbors call me all the time and say, 'Hey, your cows stink."'
Some Mapleton City Council members said the payment doesn't solve long-term zoning issues. "All this does is bar one man from the dairy business," Councilman Mike Cobia said. "Who's to say once the dairy farm's moved out, a truckload of heifers won't be moved in the next day? The problem has not been solved."
------
Information from: Deseret Morning News
(Copyright 2007 by The Associated Press. All Rights Reserved.)
×
Related links
Most recent Utah stories