Estimated read time: 1-2 minutes
This archived news story is available only for your personal, non-commercial use. Information in the story may be outdated or superseded by additional information. Reading or replaying the story in its archived form does not constitute a republication of the story.
Gene Kennedy Reporting Utah state legislators voted to spend a record amount of money for public education, including teacher pay raises and a bonus. But now an audit reveals some disturbing news.
Apparently the state doesn't have enough money for the raises. In fact, the state is $20 million short.
When we first reported the story, teachers were hoping for more. This morning, they're finding out they could get less.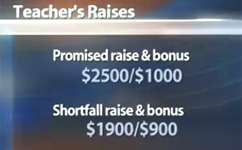 Teachers are supposed to get a $2,500 raise and a one-time $1,000 bonus. But with the shortfall, their raise would be just under $2,000, and the bonus would be $100 less.
The legislature thought the total package would cost $68 million, but the Deseret Morning News reports it would actually cost between $75 million and $88 million.
One reason lawmakers goofed has to do with the definition of teacher. "Teachers" included administrators, guidance counselors, psychologists and school social workers. So under that definition, the number of teachers rose by more than 2,000.
Lawmakers and the governor say they're committed to fully funding the pay raises, but the options look slim.
Options
Lawmakers could dip into a one-time $14 million pool of money, but that would carry over to the next fiscal year.
They could trim the list of "teachers," in other words, remove counselors and other staffers from the list. That won't go over well.
And remember the increase in money the state is supposed to give students, the per-student increase? That could be used to pay teachers. But already lawmakers are saying it would hurt student morale.
×
Most recent Utah stories